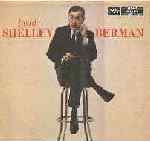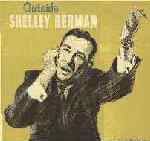 A chance meeting in Las Vegas led to an interview with comedy legend SHELLEY BERMAN! The first comic to perform at Carnegie Hall! The first comic to appear on the daytime version of the Merv Griffin Show! (October 1, 1962) The mimed phone remains permanently glued to the side of his head in our minds! Pardon the cliche, but his name is synonymous with standup comedy! (Even he is aware of this fact--When we introduced ourselves and told him that our publication was named "Shecky," he good-naturedly asked, "Why didn't you name it 'Shelley?!'")

He continues to perform standup on a regular basis. He will be appearing at the Improv at Harrah's the week of January 18, 2000.

SHECKY!: In the liner notes of your best-selling album Inside SHELLEY BERMAN, Irv Kupcinet states,
"This album is a recording of Shelley Berman actually doing one of his nightclub acts. It's a new idea in records..."
Was it a "new idea" to record a night club act? (Or is he referring to a different "new idea?")

MR. BERMAN: Inside was the second LP album of a comedianís performance before an audience. ("..a new idea"). Mort Sahl, having already cut a (live) record for Verve Records, convinced me I should try one myself.
Inside was recorded in '58. (Received the Grammy for it in '59, in the "Spoken Word" category.) Outside came in '60. The Edge in '61. All three made Gold, but the biggest seller was Inside. Though it sold very well, I hated The Edge. According to my contract with the recording company, I owed them one more album. I begged for more time to come up with new material but to no avail. Without my knowledge or consent the Edge -- made up of out-takes -- was released. Even today, it remains a bitter memory.

SHECKY!: On the cover of all three albums, you are depicted with cigarette in hand. Do you still smoke?

MR. BERMAN: I quit smoking well over twenty years ago.

SHECKY!: Also in the Inside liner notes, Mort Sahl says,
"Shelley Berman may very well be the only live comedian to have appeared on both the Steve Allen and Ed Sullivan shows."
Was there an unwritten law that said comics couldn't appear on both? Why were you the exception?

MR.BERMAN: Since all my material was (and mostly still is) originally improvised, I had no written copies of my routines. The Steve Allen Sunday night show had the right to two options after my first performance. For my second performance, I had planned a telephone monologue called "Sammy and Davy." The producers surprised me with a request for a script. It was impossible for me; the work would read terribly in print since so much relied on delivery and mime, but I complied. They rejected the routine and made me do an act I had done before. They dropped the last option. Sullivan immediately picked me up for nine shows. (I eventually did Sammy and Davy on the Sullivan show. It was a blast.)

SHECKY!: You were a comedy writer before becoming a comedian. Where, and for whom, did you write?

MR. BERMAN: I was an actor before becoming a comedian. While in New York, struggling for a theatrical career, I started writing sketches, free-lance, for the Steve Allen Tonight Show. My comedy-writing career stopped when a call came from Chicago asking me to join an improvisational acting troupe called The Compass Players. This company would someday be called The Second City. We were a group of serious improvisationists doing comedy plays and sketches. While working for very little money, I learned and honed my skills as an improvisationist. I developed several comedy phone calls. From here, I would find my way into night clubs and TV as a comedian. Incidentally, Iím still looking for acting work, my first love.

SHECKY!: What made you become a performer? When and where did you make your standup debut?

MR. BERMAN: My first job was at a Chicago night club called Mr. Kellyís. I had wangled an audition there. When developing my routines doing improvs with Compass, I had always sat in a chair to talk on the "phone" (always mimed, never real). But when I went to audition at Mr. Kellyís, I realized that on the very low stage Iíd be invisible beyond the front tables. I requested a bar stool to sit on. I would become identified with that prop and the mimed phone. Needless to say, I won my first comedian job at this very club.

SHECKY!: You've appeared at such legendary clubs as Mister Kelley's in Chicago, the Hungry i in San Francisco and the Blue Angel in New York. In those days, which club did every comedian absolutely burn to play? Which was your favorite?

MR. BERMAN: All three rooms were great to work in. Each had its own kind of inner and outer atmosphere. It is impossible for me to say which was my favorite. But, letís face it, Iím a Chicago boy.

SHECKY!: You've been described as a "cerebral" comedian. Do you think of your material as being cerebral?

MR. BERMAN: I donít know what is meant by the term "cerebral" when applied to me. If I give an audience something to think about, swell, but my primary task is give people laughter in the best possible way.

SHECKY!: Mort Sahl also said that you did "organized material rather than free association." At the time, which form was more popular among the comedians?

MR. BERMAN: In some ways Mort is correct. I am careful with my material and presentation. However, if I do not free associate, how on earth do I come up with material? Much of my performance is improvised.

SHECKY!: You were a contemporary of Lenny Bruce. Were the other comedians aware of his legal troubles? What was the prevailing attitude in the comedy community?

MR. BERMAN: It is hard to talk about Lenny. If we join in the recent beatification of him, elevating him to martyrdom, we may not be adhering entirely to the truth. If we speak of him not as a victim, but as a very good comedian who had some serious personal problems to deal with, we may smell of sour grapes. I knew him personally. One of his funniest routines was about me picking on some mobsters in my audience. (The routine is based on an actual incident. In my younger days as a comedian, my arrogance was (is?) almost legendary.)

SHECKY!: What has been your most memorable performance?

MR. BERMAN: The most memorable performance was my appearance in concert in Carnegie Hall. The first standup to do so.

SHECKY!: You recently performed at the Improv at Harrah's in Las Vegas. What is your performance schedule like these days?

MR. BERMAN: Not busy enough. I return to the Improv at Harrahís for a week this January 18, 2000. I do lots of one-niters, which keeps me in shape and in change. I write and I teach. I am presently in my thirteenth year of teaching a graduate course at the University of Southern California. I am in the Master of Professional Writing program teaching Humor Writing, Literary and Dramatic.

SHECKY!: Are today's audiences much different from the crowds when you started out? If so, how?

MR. BERMAN: I am frequently asked this question. Todayís audiences are different only insomuch as todayís people are different, and I do not think todayís people are substantially different. In my recent appearance in the Improv at Harrahís I did what I thought would make the audience laugh, and they did. Our audiences there were composed of younger and older folk; some more, some less experienced and educated, and of varying economic status. They laughed. The old problems-- love, money, security, status, health, etc.-- are still here to plague us or please us. As a culture I see us as presently deprived of subtleties. The music is loud, the anger is elevated, sex seems lacking in sweetness and privacy. Okay, so the old geezer is moaning that the world was better "back then". Yeah, right. And back then we had Hitler. So, what else is new?

SHECKY!: Who are some of your favorite standup comics?

MR. BERMAN: With due respect, I donít know what difference it makes for a comedian to answer "Who are some of your favorite comedians?" I can probably come up with an acceptable list of names and unintentionally omit names of those I enjoy even more. Forgive me, but I really donít run out or run home to see all available comedians.

SHECKY!: What do you think of the current state of the comedy business? Do you think standup has progressed as an art form? (Is it an art form?)

MR. BERMAN: Unquestionably, standup comedy is and has always been an art form. It is a form of theatrical presentation. The writing of material and the execution of it-- exactly as playwright and actor-- is obviously a creative endeavor.

SHECKY!: Were you ever a member of the Friar's Club?

MR. BERMAN: I am a member of the Friarís Club. (Not sufficiently dedicated, however.)

SHECKY!: Do you think it's important for comedians to know who came before them? Were you aware of who came before you?

MR. BERMAN: I believe it is important for comedians to know who came before them. In fact I believe comedians should know just about everything that came before them. As much experience, education and awareness as one can attain is important for a comedian. I was very aware of my predecessors in the comedy field. There were many, many I respected and admired; too many to name here.

SHECKY!: Do you agree that there's no such thing as an "ex-comedian," just "non-practicing" comedians?

MR. BERMAN: Some comedians, somewhere along the line start being called actors because theyíre acting more than working in one. But "ex-comedians?" Like Manet becoming an ex-painter.

SHECKY!: Do you have any projects currently in the works?

MR. BERMAN: It has been my experience that the best way to end a project in the "works" is to talk about a project in the works. Mumís the word.

SHECKY!: Do you still like doing standup comedy?

MR. BERMAN: I will always love to perform standup comedy.