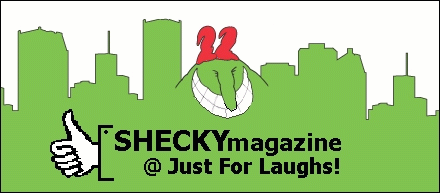 JFL MINI-INTERVIEWS
Six of the standup comics featured in this year's 22nd Annual Just For Laughs Festival answered five questions about being in the largest comedy festival on the planet.
Costaki Economopoulos, Leighann Lord, Eddie Gosling, Megan Mooney, Bonnie McFarlane and Joe Starr share their thoughts on preparation, choice of material, expectations, perception vs. reality, schmoozing and any advice for other comics.
* * * * * * *

Do you engage in any kind of special preparation in anticipation of your trip to the Just For Laughs (JFL) Festival?

Lord: Yes, my special preparation has been to stress out about my set and then go clothes shopping to relieve said stress.

Economopolous: Oh, yeah. I recently did the Boston Comedy Fest and I am using the set I did there as the basic skeleton. That set I worked on intensely the week before when I was in Minneapolis. Opened with it, taped it every night, wrote notes to myself about performing, segues, flow, through line, attitude, crowd response. Most of my homework is done because I did it already for that, but this is an even bigger deal and now I'm second-guessing everything.

You don't do the most crowd-pleasing set to be sure, but you can't just lump all of your favorite smart jokes into a pile either. Should you swing for the fences with a greater chance of striking out, or just make sure to hit a double? Some of my favorite bits are dark or include rough language. Do you include that, even in a short set? Part of the goal is to get TV, so does that really help? Is it better to do the stuff with a little more meat on the bones, POV, whatever, even if it costs you in laughs? Probably, but you can't do a set that just lays there either.

These are some of the questions I've been asking myself. All important. But on the other hand, as long as you work through these questions, and keep your head about you, you can't really go wrong. It is, after all the fuss, still a guy doing seven minutes of comedy. I'm good at that. I've done that for long time. So I work and mull. And as long as I don't lose the head game, I'm fine.

McFarlane: I clean my apartment before I go on any trip so when I come home I'm like, "Ah, thanks me." Specifically for this trip, I printed out my jokes, looked for my passport and stuffed hash into my toothpaste tube.

Starr: My personal prep work for the Festival is this; nothing. I spend a few days prior to going to Montreal doing absolutely nothing. I won't get on stage and I don't look over material. I won't even talk about the Festival. I want to be in a very cool frame of mind when I get there. It helps me stay out of my own way.

Mooney: Yes. I have a special success formula code-named "Preparation Hilarious." Sound familiar? For those who break my code... I will be handing it out in all the green rooms.

Gossling: No.

* * * * * * *

If you're performing on more than one show at JFL, will you do the same set each time or will you plan to do to more than one set? Why or why not?

Lord: Good question. I'm on The Relationship Show and An Evening at Eve's Tavern (read: Chic Show). Just For Laughs has actually requested that I not repeat material between the two.

Economopolous: I'm doing a Gala this year, which for me is Friday. I'm doing two other sanctioned sets, one Wednesday, one Thursday. Traditionally you use those as a warm up to the Gala set, which is a huge venue, with thousands of people, and TV.

When I did Boston, I stuck to my set that I had polished and it served me well, but afterwards I realized that the industry characters had seen me more than once and I wished that I had mixed it up a bit. I'm a writer type, and I have plenty of jokes, so it would have been nice to show some range. I may do that in Montreal.

McFarlane: John Heffron said something on Last Comic Standing that really affected me. He said he only comes up with the first joke for any set and then just lets the comedy flow. Since he beat me by 94% in the head to head, I've decided to do the same. Whenever I prepare a set list now, I only write out one bullet point and then let the comedy flow.

Starr: I never perform the same set twice. I keep my performances as close to jazz as I can. I'm doing the Relationship Show and so that is the direction of the material I'll do for that show. For the Wiseguys show it'll be heavy with ethnic weight. But I don't plan the sets out. I know the subject and the rest is loose. Oh, and most importantly I leave room for ad-libs and improv. That's when you know you're in the groove. The only set I know I must do a certain way is the Gala.

Mooney: Each venue varies in time, so you have to adjust your act. I'll probably do some of the same core jokes-- ones that I know work-- and mix it up with some of my favorites here and there.

Gossling: I plan on doing the exact same set and challenge all industry to come to each of my show's every night and going over my set word-for-word to see if I stray.

* * * * * * *

How important is festival "schmoozing"?

Lord: It's all about the schmoozing. This is the Olympics of schmoozing. Everything else is secondary.

Economopolous: Well, you can go and do a set in Montreal any time of the year, but the folks you hope will see you won't be there in February. I generally like to let my set speak for itself, but it can never hurt to have a beer with somebody who likes your work.

That being said, I never schmooze just for schmoozing's sake. I hate it. It makes me feel slimy. And I'm not good at it. But if I strike up a genuine conversation with someone who can help me, I don't shrink from that, just because it can help me professionally.

When it's real, it's fun. You get to hang with some of your heroes, and the movers and shakers of our little craft are there. I really like that part of it.

McFarlane: If by "schmoozing" you mean hand jobs, I think it's very important.

Starr: Schmoozing is very important at the Festival. The only thing more important is to have something worth schmoozing about. Montreal is one big opportunity to make little opportunities happen for yourself. Where else are you going to get that many people in the business from all over the world? You might be perfect for a project in Australia or England. Who knows? And schmoozing with your peers is a lot more fun than sitting across from a bunch of suits and saying, "Well, I trained at Julliard and spent time in summer stock. I've worked on projects with... " Shmoozing is a meeting with a beer in your hand.

Mooney: I hate the word schmoozing. I prefer to call it "people talking to me."

Gossling: It is important to talk to others and let them know how good you are and let the others know that they don't stand a chance of being noticed in your presence.

* * * * * * *

How did the reality of your first JFL match up with your expectations?

Lord: Polar opposites. It was like getting a lump of coal in your Christmas stocking instead of all the presents everyone said you were going to get. Essentially people blew Montreal so way out of proportion that it couldn't possibly live up to everything they said; Although, I loved the Comedy Central Midnight Breakfast.

Economopolous: To me, it was a lot like meeting DJs. All of these people you've talked to on the phone for years are there and you get to think, "That's not what I thought you were going to look like."

I guess it's a bit of a coming out party for you and your act. You earned the invite and just being there sorta adds a little value to the way people see you. I enjoyed the ride, had great sets, and am looking forward to going back.

McFarlane: I didn't bomb and I got re-booked. Sweet.

Starr: The expectation I had in my head the first time I went to JFL was simple; I'll get on stage, be funny and go home. And then I got to the Delta. It was much bigger and more event filled then I thought possible. Any event that takes over an entire city is going to be huge. I see it as the Olympics for most comedians and standup comics. Not in the sense of competition but rather the gathering of great talent all trying to move in the same direction: Up.

Mooney: This year I expect a gift basket and turn down service in the hotel room every evening.

Gossling: I did New Faces two or three years ago and got a spot on one of the Galas that I didn't expect. That being said, I am not the regular on daytime soaps that I thought I would be. This year I expect a parade at the end of the festival in my honor. Each float is constructed to represent one of my bits. At the end, I judge them and award the winner a development deal with HGTV on their new series Parade Float Challenge. Of course, after the awards and the parade, JFL is renamed the "Eddie Gossling Just For Laughs Festival" and Bruce (Hills) replaces the Green guy with me.

* * * * * * *

What advice would you give to a comic who hopes to appear at JFL some day?

Lord: If you have a passport and a cheap airfare you can go anytime you want.

Economopolous: Work harder than you want to. And try to keep your eye on the big picture. We all know there's a difference between good and crowd pleasing, but it's hard to stick to your guns sometimes. I say this as much to myself as anyone reading: stick to them.

McFarlane: If you're sitting around hoping, why not hope for your own sitcom on a major network? Don't waste good hope on a dumb festival. Cut out the middleman ,man. At least in your dreams.

Starr: I've given this piece of advice to everyone I know; get up to the festival before you perform. If you didn't get New Faces or whatever, go anyway. Spend the money, come up and let the experience "de-mystify" the festival for you. Get familiar with the city. Learn where all the bathrooms are. Stuff like that. These are two biggest things I've learned in the five years I've been up there: It's a stage and a mike like every other time. And it's a bunch of people all looking to either be or find the next big thing. We're all in the same boat, we're just sitting at different oars.

Mooney: I make it a habit of never giving good advice to new comics. I usually let the younger comics make all the same mistakes I did starting out. Enjoy living in condos.

Gossling: Never cross Bob Barker. He runs the "business." Until he is no longer with us, kiss his ass like it's a soft pair of candy cheeks. The deeper you kiss the more you'll get out of it.