ADVERTISE WITH SHECKYmagazine.com!

Advertisers: Want to reach our readers?

CALL or EMAIL US NOW!


---
"SHECKYmagazine.com:
CHARMING, SINCERE AND HELPFUL!"
--USA TODAY
Our readership has grown steadily since our launch, APRIL 1, 1999!

Our readership is growing on a daily basis!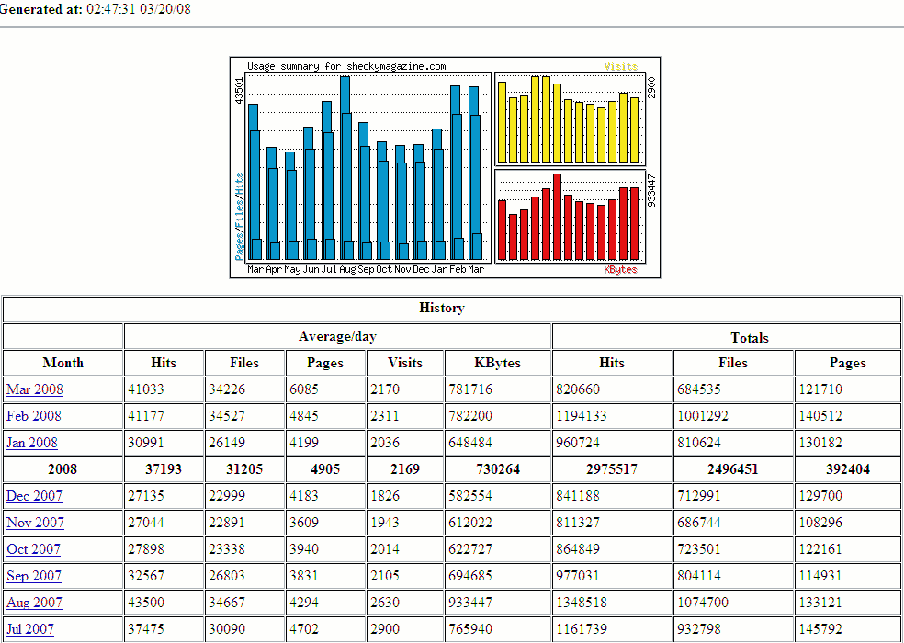 WHO ARE SHECKYmagazine.com READERS?

STANDUP COMICS
STANDUP COMEDY FANS
ENTERTAINMENT INDUSTRY FIGURES

74 % of SHECKYmagazine readers have been to a COMEDY CLUB within the last three months!

58 % have been to a COMEDY CLUB within the last 30 days!

We're having unprecendented traffic...
HITS, PAGES, VISITS, UNIQUE VISITS, VISITORS-- all UP, every month for the last FIFTEEN MONTHS!

We set a record in October-- 412,000+ HITS.

Our statistics show no sign of downturn.

HALF of our readers have started reading SHECKYmagazine in just the last SIX MONTHS!

MORE THAN TWO-THIRDS have been with us for TWO YEARS OR MORE!

We seek the following:



ADVERTISERS--



Banners ads, TOP and CENTER on the FRONT PAGE, on the CLUB LIST page and on the COMICS' WEBSITES LIST page (The top three most-hit pages in the magazine.)



120-pixel X 120-pixel ads on the FRONT PAGE, COLUMN RIGHT, and on the CLUB LIST page and on the COMICS' WEBSITES LIST page




ALL ADS will be linked to YOUR WEBSITE, or to a ONE-PAGE file on SHECKYmagazine, which will both EXPLAIN your PRODUCT or SERVICE, and LINK TO YOUR WEBSITE




PROMOTIONAL PARTNERS

Companies, entities, organizations, individuals who would like to reach our audience not just by advertising, but by becoming associated with the magazine in other ways.


If you have a product or service-- and you offer value, quality and good customer service-- we invite you to combine your quality reputation with the quality rep of SHECKYmagazine. In the past 5-1/2 years, we have cultivated a brand that is associated with trust, credibility and hipness. All delivered with a dry wit. There is no other publication (on- or offline) that is more closely associated with the standup comedy business. And no other publication enjoys our recognition among standup comics and standup comedy fans.




A T-SHIRT/HAT EMBROIDERER!

Our T-shirt promotion was such a success-- "...if you send us $20 or more, we'll send you a bee-yoo-tiful SHECKY! T-shirt!!! That's value!"-- that we're coming up on the end of our most recent run of T's!


One of the partners we seek specifically is an outfit that does SILK SCREENING or EMBROIDERY and would like to establish (or EXPAND) its customer base in the standup comedy world. If you fit this description (or if YOU KNOW A COMPANY THAT DOES), CLICK HERE to send us an email or call us at (856) 310-0536 and we'll talk via the telephone about terms!




We also seek partners in the video/CD/DVD production biz. There are hundreds of comics out there who are looking for a competent, creative company that offers comics value and good service when they seek to produce a CD or DVD for sale after gigs. Perhaps YOU ARE THAT COMPANY! Let's talk! (Click on the email link above and we'll arrange a phone call!)




CORPORATE SPONSORSHIP

Throughout our publishing schedule, we frequently travel to special events (Festivals, contest, etc.) of importance to the standup business and the fans. During those events, you could promote your service or product in conjunction with SHECKYmagazine. For example: On or our next trip to Montreal to cover the JUST FOR LAUGHS FESTIVAL, your company's logo could be on our T-Shirt or hat, which would enjoy high-visibility at the WORLD'S LARGEST COMEDY FESTIVAL and your company's information and rates being featured in an accompanying handout or product tag!




IF YOU ARE A COMIC who deals with a company that offers you good service and value, let them know we're seeking to strike a deal! Send us an email by clicking on the email link above and let us know! Thanks!



COMING SOON!
T-Shirts and HATS(!) emblazoned with the SHECKYmagazine.com logo coming soon! Send us $20 via PayPal and we'll send you a beautiful embroidered hat or T!

Advertise HERE!
We're seeking advertisers who want to get their message to our readers! Send us an email or call. For details, click here.