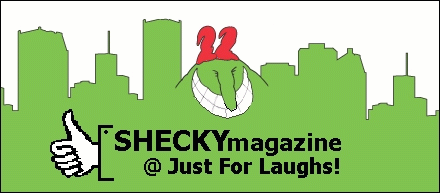 Monday, July 26, 2004
J.F.L. Update #4 is Uploaded!
Interstate 87 is a dangerous road to travel on the third or fourth Sunday in July. Sprinkled among the vacationers and the Canadians skittering down to Plattsburgh to buy appliances at U.S. retailers is a healthy dollop of bleary-eyed, exhausted, NY- and NJ-based comics returning home from four or five or six days of intense, schmoozification at the world's largest comedy fest. CJAD said that there was a 40-minute backup at the border crossing... it was more like an hour. Longer, of course, if you stopped into the Duty Free to exchange your Canadian money for U.S. bucks and maybe cop a 12-pack of Sleeman's and a 1.5-liter bottle of Bombay Sapphire Gin.
(
At this point, we hasten to point out that, in addition to sharing a birthday with L.C.S.-er

John Heffron

, SHECKYmagazine Editor Brian McKim also shares a birthday with Dr. Hunter S. Thompson... which may or may not explain our tendency to include arcane, sometimes alcohol-related details in our updates.
)
Oddly, this hot and sticky traffic ordeal didn't affect us as much as it may have in past years. This was largely due to the fact that we were better able to endure four days of intense Festification (and a subsequent traffic jam) this year due to the fact that we drank far less than in past years and, in the previous 100 days or we had each dropped more than 20 lbs. (
We stress: Per person, not combined!
) Indeed, the very fact that we're cranking out this update late on Sunday evening is testament to our renewed physical condition.
While waiting in line to exit the Duty Free parking lot and join the main queue that was seeking to re-enter America, we spotted
Ross Bennet
(Masters) entering and eventually exiting the Hors Taxes joint. And, a little farther down the road, at a rest stop on the NY State Thruway, we briefly conversed with
Sandy Marx
, whom we spotted near the Starbucks. We remembered Sandy from last year's Artist/Industry Basketball game. He didn't participate this year, but he vowed to do so next year.
ARTIST/INDUSTRY BASKETBALL GAME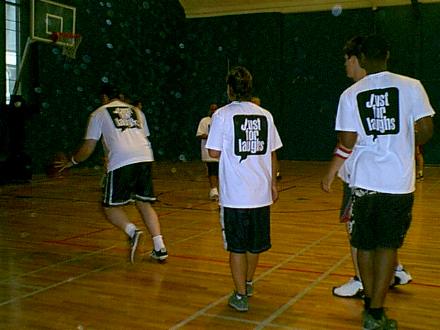 Artists side forms layup drill lines before the clash at the MAA on Rue Peel
Speaking of the Artist/Industry hoops, it is apparent that we here at SHECKYmagazine have done such a smashing job of making the Artist/Industry clash sound exciting and/or fun to participate in or watch that a healthy number of players on both sides
and
a film crew from a Canadian television outlet showed up Saturday afternoon at the Montreal Athletic Association on rue Peel. The healthy turnout might also explain why, for the first time in a while, the Industry team actually gave the Artists a run for their money!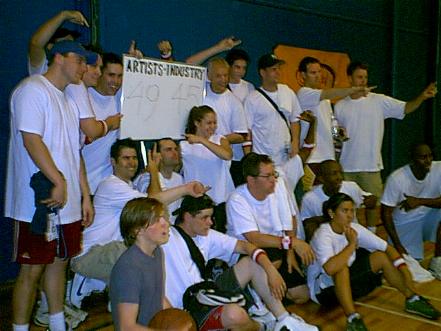 The Artists team gloats, gesticulates, taunts and generally behaves in an unsportsmanlike manner after barely defeating the Industry team
That
Ryan "Flyin' Ryan" Wilner
can sure hoop! (We likened him to a praying mantis in sneakers!) And New Face-r
Josh Sneed
can pop from downtown... if nobody is covering him. Standouts for the Industry gang included Gregory Moore of the The Moore Law Group and some real tall, skinny dude whose name we didn't catch. Big impediment to any sort of camaraderie (or networking) is that nobody bothers to introduce themselves. Hmmm...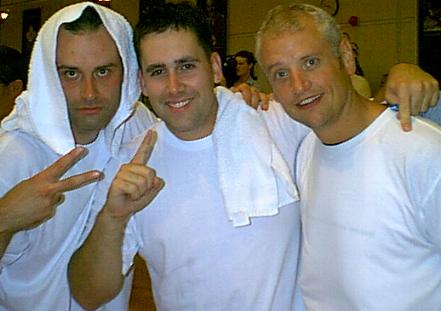 Ted Alexandro, Josh Sneed
and
Eddie Gossling
gloating and preening still more after their team's victory
Kudos to Festival Bigwig Brent Schiess for dusting off his dry marker and dilligently keeping score on the sidelines throughout the two 15-minute halves. (And those referees were professional and, at times, amusing!) Thanks also must go to Roots and the Comedy Network for sponsoring the whole sordid affair! We nearly forgot to mention to the final score--Artists 49, Industry 45.
A BOOK SIGNING/NEW CLUB LAUNCH
Earlier in the day, and not far from the scene of the basketball crime,
Jim Mendrinos
, at Chapters Bookstore on Ste. Catherine, signed copies of his new book, "The Complete Idiot's Guide to Comedy Writing" (
BUY IT HERE.
) We hear that turnout for the signing was healthy and the whole affair went for longer than scheduled!
Earlier in the day, at 11:00, the new NY Improvisation "management team" hosted a bash at the Delta.
The Improv
is back and, amid piles of Krispy Kreme donuts, Marty Fisher, Al Martin, Linda Corke, Eric Hanson and Silver Friedman heralded the legendary club's return to the Manhattan comedy scene. See Jim Mendrinos' account of their recent christening bash in NYC
here
.
PARTY TALLY
There was no Comedy Network Barbecue this year! Supreme bummer! In years past, everyone's Saturday afternoon was reserved for a relaxing blowout on the Terasse de la Jardine sponsored by the Canadian yucks outlet. In the past, we've good-naturedly chided the organizers for handing out blunt, easily-thrown objects, but we never dreamed they'd turf the affair altogether! (Perhaps we're being too hard on ourselves... perhaps it wasn't our ribbing that caused them to fold their party tent and leave us all high and considerably dry!) We theorize that their sponsorship of other events at this year's JFL was the reason for cutting the Labatts and rubbery burgers out of their entertaining budget! It's the end of an institution, we say!
We hear that
Pauly Shore
hosted a blast at the Buddha Bar after the screening of his film. And, we're told that there was an "super-secret, invitation-only" barbecue on Saturday afternoon right close by to Pauly's soiree. What is with this super-secret nonsense? What? Are we in high school again? You're making TV money, now! Hell, you
are
TV! Peel off some hundreds and throw a
real
party! Exclusivity breeds resentment! (You can bet that SHECKYmagazine will throw an all-inclusive super shindig when they make their first million ($US) or two! And, by golly, you'll all be invited... even you Comedy Central folks!)
MAJOR GROUSING, REPORTING FOR DUTY!
Speaking of cheap fucks... We heard third or fourth hand, from more than one source, that the New Faces kids were billeted at a crummy hostel. That's right! We couldn't believe it when we heard it either! You know, we had always just assumed that the folks who were fortunate enough to be invited to perform at the most prestigious comedy festival on the planet were probably ensconced in a swell room at the Delta. Or, at the very least, lodging was secured at one of the many lovely hotels that surround JFL Ground Zero. Turns out that we were wrong... very wrong.
From what we could piece together, the New Faces are told ten days before the start of the Festival that they've hit the jackpot. They are then put up in a
hostel
(rhymes, for all intents and purposes, with "hostile") in
le quartier chinois
, just south of the city's core! To summarize, the comics who stock the New Faces showcases (the comics who are featured in what is perceived by many in the industry as the most important segment of the entire fest) are all quartered not in a posh hotel room, not in a Holiday Inn or a B & B, but in a "supervised institutional residence" (Webster's), not unlike what one might encounter while backpacking through the third world. In Chinatown, a few blocks south of the action at the Delta. The accomodations were described as spartan-- non-carpeted floors, a cot for a bed, not even a television set.
We were disbelieving at first. We thought someone was, as the guys over at Globecom might put it, "having us on!" But we were assured that the New Faces dwelt in what might be charitably described as a dormitory. So much for the glamourous life of show business!
And this 10-day notice feature was news to us as well. Let that one sink in! Hmmm... let's see... I must buy a ticket from Louisville or Seattle or Tampa
to Montreal
in mid-July... (the peak of Montreal's tourism season!)
on ten days notice!
Wow!
Don't think for a minute that we don't think it's worth every penny that one might spend in order to be be here on time, with a clean shirt and a tight, 7-minute set at the ready, but Holy Mother of God, could they make it any more difficult?!
Can you imagine getting the call, buying a ticket, hustling your ass up to Montreal and then finding out that you're staying in what one comic described as "worse than the Cuyahoga Falls condo?"
We suppose that the incentive to bitch is near zero. After all, artist, manager and agent all want the visibility and prestige that comes with New Facing it so badly that any rocking of the boat is discouraged. And, when you consider that being a New Face is a one-time deal (your face is only new once, we assume!), the comic who would complain would only be doing so for the benefit of those who came after him/her-- and comics aren't noted for altruism of this sort. (Indeed, a selfless crusade of that kind is rare for anyone in any occupation, let alone standup comics!)
So who might be to blame for this shabby treatment? JFL, perhaps? Respective managers and agents? The comics themselves? We suppose there's no way of knowing. (If we were
real journalists,
we'd probably hound the JFL people for a statement... but, remember, we're
pseudo-journalists
and, as such, we don't have the time and resources for such exercises.)
We do know, however, that if we were managing or repping a New Face-r and we found out that our New Face-r was staying in GitMo du Nord, we'd whip out the Platinum Visa card and spring for nicer accomodations. But, hey, that's just us.
SHORT STRANGE TRIP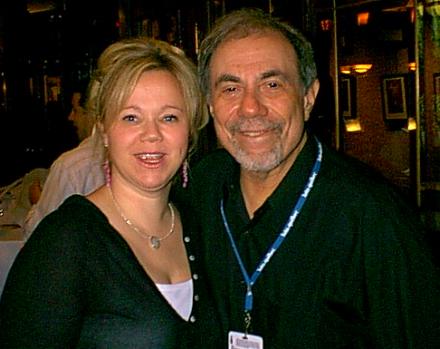 Caroline Rhea
and Cary Hoffman at the Delta
We had to truncate our coverage just a tad. On Saturday night, we hopped onto the Autoroute 10 and headed over the U.S/Canada border for a scheduled one-nighter in St. Albans, VT. Gotta pay the bills! However, we managed to get back into town for plenty of late-night reverie on our last evening in Montreal!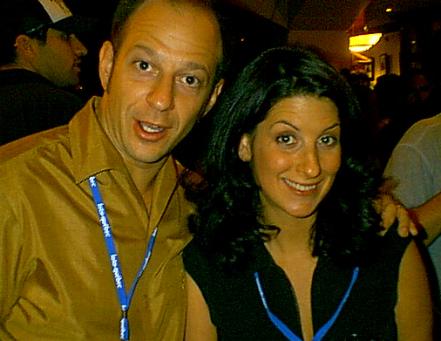 Peter Berman
(Masters) and
Stacey Prussman
at the Delta
In our absence, Uptown Comics
Gerald Kelly, James Hanna, Lavell Crawford
and
Earthquake
peformed while Mad TV's
Orlando Jones
hosted. The Boston Comics Show featured
Lenny Clarke, DJ Hazzard, Bobcat Goldthwait, Nick DiPaolo, Eddie Brill
and
Tony V
. Two Loto Quebec Galas took place, both hosted by
Tim Allen
. One of the best Headliners shows, featuring
Jim Gaffigan
and <
Mitch Hedberg
went off at 9:30 and the Alternative Show was held at Midnight and featured the alternative comedy stylings of
Andy Kindler, Arj Barker, Boris Hamilton, Bil Dwyer, Flight of the Concordes, Dan Mintz, Jimmy Pardo
and
Ian Bagg
.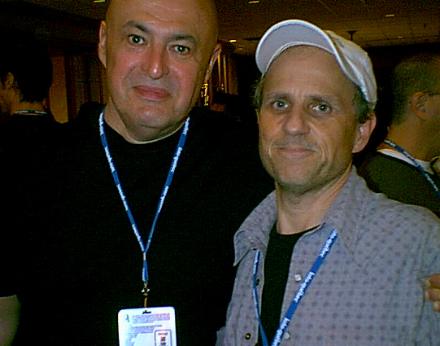 DJ Hazzard
and
Bobcat Goldthwait
hold mini Boston reunion at the Delta
And, if things couldn't get any curiouser, Spike TV (as was noted in the pages of this magazine) ventured to Montreal to hold a contest (a show at The Green Room) among some hand-selected comics from the Festival, the winner of which would receive a development deal from the cable outlet. Hosted by
Pauly Shore,
the show was described variously as "horrible," "a one-nighter," "a bar gig" and, finally, as "a horrible, one-nighter, bar gig!" Unfortunately for many of those involved, a ton of industry showed up and were packed in like sardines. Imagine, if you will, a bunch of industry showing up
at a hell gig!
You've just entered The Plummeting Self-Esteem Zone. (Cue the spooky music.)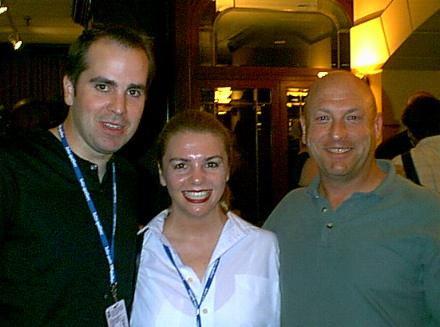 David Pryde, Traci Skene
and The Emerald Isle's Ed Regal at the Delta
When we got back to the Delta at about 1, that wave that crashes into the lobby and bar area had not yet arrived. Wavelets of folks who had attended some of the earlier shows were arriving, most if not all had positive things to say about the performances. In fact, all week long, the feedback on this fest's offerings was, by a vast margin positive. Nearly everyone was energized by the depth and breadth of this year's talent. New Faces, Headliners, Galas, Masters-- you name it, they were all favorably reviewed. As we noted before, this was The Happy Festival this year. For our part, we had the most fun we've ever had in our six fests. We hear that all the shows were well-attended, too.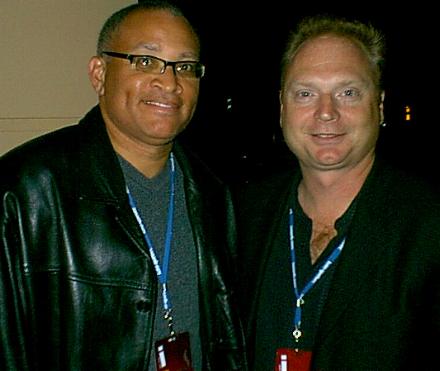 Larry Wilmore
(creator, The Bernie Mac Show) and Jonathan Michaels of TMC at the Delta
The scene at four AM in the Delta is a curious one. Earlier, the main bar and the satellite temporary bars shut down, and final rounds are bought and consumed, the number and pace of the goodbyes picks up. As more and more people exit, a handful of Delta managers begin to slowly move the dwindling crowd toward the main lobby. Like intense border collies wearing black Italian-made suits, they gently nudge the stragglers in the outbound direction, toward the main staircase. It's like a party, but saying goodbye at this particular party is, in some cases, done with the knowledge that it might be a year (or more) before we might see many of these folks again. Which might explain why it takes longer.
We look forward to next year.
Saturday, July 24, 2004
Film-heavy JFL
There are several films being screened at this year's JFL. The positively reviewed (and self-explanatory) "Pauly Shore Is Dead, " the Boston comedy documentary "When Stand-Up Stood Out," Goldthwait's "Windy City," "The Gynecologists" (the third film in Adam Dubin's trilogy) and "Being Ron Jeremy."
The last one is a 40-minute film starring legendary porn star Ron Jeremy, written and directed by
Brian Berke
. The film is notable among SHECKYmagazine fans because it was co-written by none other than
Rich Williams
! You may recall that Williams was the first columnist to tackle what has become a SHECKYmagazine convention-- The Big Move! For several months back in 1999 and 2000, Williams detailed his experiences surrounding his move from smalltown Schenectady, NY, to bigtown Los Angeles, CA. After securing a writing gig or two, he handed off Big Move duties to
Tom Ryan
, then went on to fame, fortune and... hanging out with porn stars!
The spoof of the Spike Jonze movie of nearly the same name features Jeremy, Andy Dick and a bevy of porn starlets. The screenings at the fest were well-attended and each was followed by live standup performances by "The Hedgehog" (That's Jeremy's nickname and, yes, he does standup!) and director Berke (Yes, he does standup, too!)
Friday, July 23, 2004
J.F.L. Update, # 3 is UPLOADED!
STATE OF THE INDUSTRY ADDRESS
"Whoopi Goldberg has done some terrible comedy and now we're all in trouble. We all should have known that horribly hacky comedy could turn dangerous. Punch up your acts, you don't know what could happen!"
Thus began
Andy Kindler
's 2004 State of the Industry Address on Friday afternoon at about 20 minutes past two. Introduced by
Jimmy Pardo
(His promo postcard reads, "Jimmy Pardo--Never not funny"), Kindler chose Whoopi Goldberg as his first target and from there he non-seamlessly swerved from
Jerry Lewis
to Josh Groban to
Dat Phan
to
The Wayans
... all of them.
"If Ryan Seacrest has a show, then I deserve a six-hour block somewhere."
This year's rant was streamlined, spare, simple... all killer, no filler. Kindler was working, the air conditioner was, too. The house was jammed. It remains the "thing to do" at the Just For Laughs Festival. A chathartic and caustic incineration of the dirty laundry of the business of show.
"All the people you started out with are doing sligthtly to considerably better than you are"

--One of Kindler's nightmare Variety headlines
We arrived at the Delta with a good half-hour to spare. We had been sweating over Update #2 for the better part of the morning. We breezed past the crowd that hovered just outside the ballroom doors and went straight into the ballroom itself, on to the service table-- we were in dire need of coffee! (The Cafe La Presse serves woefully tiny takeout cups of java! Quite honestly, we were amazed at two things: 1. That no one stopped us and 2. No one else did it before us!) We observed Kindler's soundcheck. Even in front of an empty room it was entertaining! We would bet that even Kindler would tell you that he's at his funniest in an empty or near-empty room.
"I may not be the last comic standing, but when I'm onstage, I'm the first comic to admit that things aren't going well."
Within minutes the ballroom doors open and the running of the comedy industry began. Hell hath no fury like comedy industry folks and free coffee and cookies. It was all very civilized, however. Jovial, even. What's going on here this year? Is it us? Or is it real? We sense a calmness, a benevolence. Folks seem placid... more willing to throw the head back and cackle. There seems to be less hunkering in the corners, less preening and parading through the lobby with a phanlanx of "people." Is it Prozac? Xanax, perhaps? Or is it that the business is doing better?
"If slavery were legal, VH-1 would be South Carolina."
Even Kindler seemed less anxious. Sharp as a tack he was, to be sure, but he seemed to possess other qualities this year that were nowhere in sight previously. (Mercy? Tolerance? Bemusement rather than frustration. There was shortage of targets over the past year and he certainly showed no mercy when it came to
Jay Mohr
or
Jay Leno
, but it seemed like one of his main targets was... Kindler himself! And, here's the weird part: He even sorta went easy on himself.
On Dan Naturman's Last Comic Standing hissy fit: "A juggler doesn't quit Barnum & Bailey complaining about the circuslike atmosphere."
It was less of an address and more of a solid 1:15 set of sharp, topical commentary. There was the requisite self-deprecating, "I have no career" gags ("I'm not in show business, but I can see the campfires of show business glowing in the distance.") It was a sparkling showcase set in which he did what might be considered accessible material, suitable for, heaven forbid, a comedy club. A lot of it was personal (relatively high amounts of talk about his family), not as much of it was "inside." Indeed, it might have even played well in... Peoria.
It was non-stop. It was dense. It was rich. One attendee told us that Kindler's SOTIA is "the only time I laugh all year." We're sure that's the case for many on hand today.
People skewered:
Jerry Lewis, Andy Kindler, Ashton Kutcher, Howie Mandel, people who do improv, Whoopi Goldberg, Gallagher, Ryan Seacrest, Ellen Degeneres, Josh Groban, Billy Crystal, Bruce Villanch, Michael Eistner, Michael Ovits, Slobodan Milosevic, John Stossel, Jimmy Kimmel, Tracy Morgan, Andrew Dice Clay, Jay Leno, Adam Sandler, Barry Katz, Peter Engel, Dat Phan, Jay Mohr, Dan Naturman, Brett Butler, Rob Reed, Ross Mark, Ant, Doug Stanhope, Joe Rogan, Dennis Miller, The Wayans
Entities skewered:
Hidden Howie, Just For Pitching, Fox, improv, L.A.X (the series), People Magazine, Bachelor, Survivor, gay marriage, The Passion of the Christ, ABC, Variety, Disney, Green Screen, Less Than Perfect Quintuplets, Spike TV, According to Jim, Last Comic Standing, American Idol, Bruce Almighty, Greek Games, National Lampoon, Emmys, Comedy Central, I Love the 80s, Saturday Night Live, Laugh Factory, M.A.S.H., Queer Eye for the Straight Guy, NBC, Wife Swap, Trading Spouses, The Graham Norton Effect, I Love the 90s, VH-1, The Mole, CNBC, HBO, Hallmark Channel, White Chicks, Dodge Ball
Andy Kindler

delivers his State of the Industry Address to a pathetically thin crowd... or... this is the sound check?
AFTERNOON DELIGHT
These afternoon affairs are entertaining. They are well-attended. And we are of the opinion that a lot of schmoozing is done while waiting. Waiting for the programs to begin, waiting for the parties to start, hanging between the program and the party. It's relaxed, there's no soundtrack, the sun is still shining outside and there's less of an alcohol factor. (At least until the party starts!) Lots of quality contact goes on during shuttle bus rides, too. Contacts are established, cards exchanged, introductions made. Some might even maintain that the highest quality schmoozing occurs during daylight hours when minds are clear, energy is high and the pace is less frantic.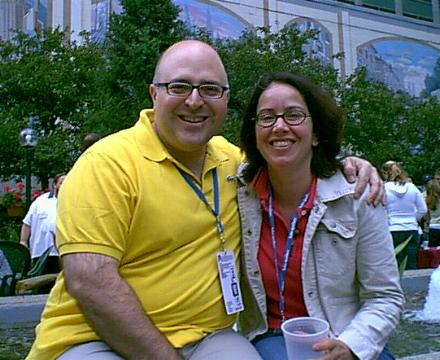 Frank DeCaro

and

Doria Biddle

host and co-host respectively of Sirius Satetllite Radio's Frank DeCaro Show at the Hollywood Reporter Party
The Hollywood Reporter switched gears this year and held their bash on the terrace outside. (In past years, it was indoors, in one of the ballrooms.) It had much of the same feel as the Comedy Network Barbecue, but without the Comedy Network's penchant for handing out objects that can easily be thrown at heads or can land in drinks. (That's tomorrow, if you're planning ahead.)
Tonight is the premiere of The Masters. (Or, for the more cynical among you, Old Faces... have we used that gag before? No matter. It deserves recycling.) Ted Alexandro, D.C. Benny, Ross Bennett, Peter Berman, Bill Burr, Bil Dwyer and
John Paul Morgan
. The way The Masters sounds eerily similar to...
an apology!
To wit: "They're familiar faces and familiar names with completely new routines. They're The Masters, and they're taking to the stage with new material, a new approach and a brand new outlook on life. If this comedy were any fresher, it would be vacuum-sealed." Check that-- it sounds more like an advertisement for a high-tech walker. What is with that? Allow us to translate: "We sincerely apologize to all the talent coordinators, television executives and casting agents for having the temerity to present competent, professional standup comics who you may have seen once before, and we promise that they'll all do something new and different and not that tired old crap they've been perfecting for two decades or so." We're a little weary of the industry's "been there, done that" approach to surveying the talent that's out there. At times they seem to affect the same attitude as a 30's-era, cigar-chomping movie mogul. ("If you're such a whizbang, how come I've never heard of you? ESCORT THIS GENTLEMAN OFF THE LOT!" Then, to his quivering assistant, "Make sure he never darkens my door again... and warm up the plane, Maude and I are weekending in Palm Springs!") They seem to be of the opinion that if you've been at this comedy thing for a certain amount of time and you haven't "made it," there's
something wrong with you.
Add into the whole equation the insulting notion that no one can ever actually improves with age... or practice... or merely the passing of time, and you have a frustrating situation that results in the above copy ending up in a brochure that is distributed
to the public
! (Do they really have to know all those details about the comics they're about to see? How about this for an idea for a showcase: The AA Show! This crop of comics have a new enthusiasm for the craft after having kicked their addiction to demon rum! Come see these newly dried out comics get a second shot at stardom! Note: Two drink minimum in the showroom.)
Pauly Shore
and
Bobcat Goldthwait
are both in town to promote film projects they're involved in ("Pauly Shore is Dead" and "Windy City" respectively) and The Second Annual World Stupidity Awards was held at 7 Friday night, hosted by
Lewis Black.
(From the description on the website, it sounds like just another opportunity to dump on America-- wake us when its over.) And the cast of
The Family Guy
did a live reading and a Q & A at the Imperial Theater.
Also of note: There was a special solo show by
Colin Hay
(the lead singer of 80s pop group Men At Work) at the Cabaret. Hay also performed at the Late Night Down Under at Kola Note. (We've had "Overkill" stuck in our heads intermittently ever since he appeared on NBC's
Scrubs
. We were compelled to rush out and buy the CD! Catchy tune, that one!)
Does anyone else think this is funny? The Comedy Night in Canada show (at Ernie Butler's Comedy Nest waaay across town) is always held at the exact same time as the CBC party at the Delta, which is billed as "a salute to Canadian comics!" It's a strong message they're sending, eh? "We love you, Canadian comics! Now go away, so we can feed smoked meat to the Americans!"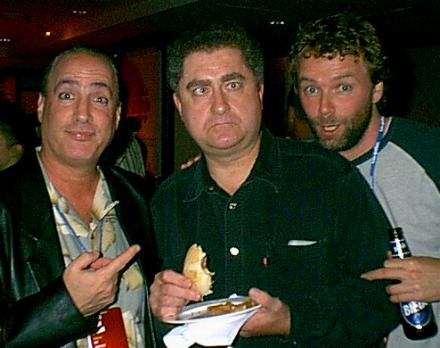 Hey, look! It's the Comedy Coach

Neil Lieberman

and The Iron Man

Mike McDonald

and Vancouver Comedy Festival Bigwig

Will Davis

!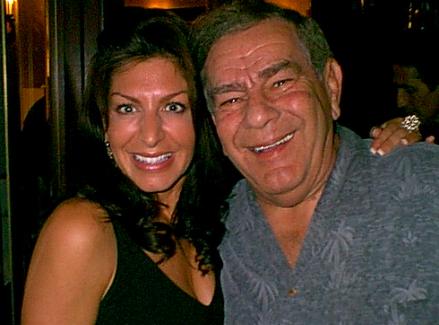 From Last Comic Standing fame,
Tammy Pescatelli
mugs it up with comedy legend
Freddy Roman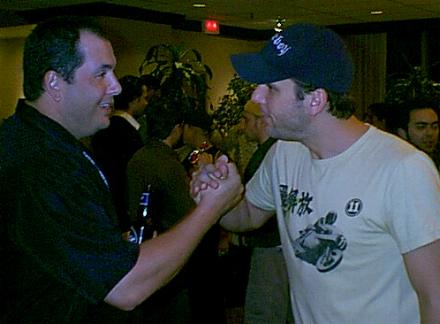 Houston Laff Stop's Peter Prell shakes on it with

Dane Cook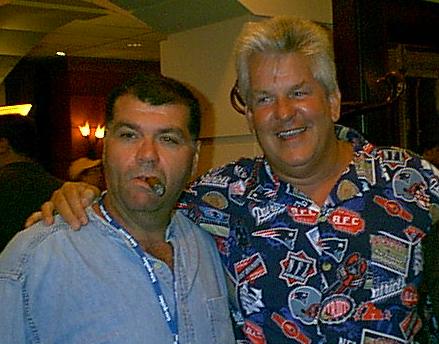 A good chunk of the Boston contingent in
Tony V
and
Lenny Clarke
Mendrinos Book Signing at JFL!
James Mendrinos,
SHECKYmagazine columnist (
InNY
) will be signing copies of his new book, The Complete Idiot's Guide to Comedy Writing, at Chapters bookstore at 2PM tomorrow (Saturday)! Hustle on down to 117 1 Ste. Catherine St. and say hey to Jim!
JFL UPDATE #2 is Uploaded!
It takes a day to get adjusted. (It doesn't help any when you start out with a sleep deficit-- and the schedule we keep just heaps deficit on top of deficit!) But we gamely attempted to get Update #1 out before we headed out for the day's activities. We failed. But the new Blogger technology makes updates easy, we must say! (Please send any complaints or compliments along, so we can adjust accordingly!)
PITCHING IT? NO! JUST FOR PITCHING!
It was big smash last year, this Just For Pitching. And we admit here to grossly misidentifying the program as "Pitching It!" Honest mistake, really! We've confused it with Dating It! and Confessing It! and Reading It! Damn you,
Colette Hawley!
Now we're going to insist on referring to
Kindler's
SOTIA as "Bitching It!" and to the Industry/Artist Basketball Game as "Losing It!" (The latter might betray a bias toward the industry!)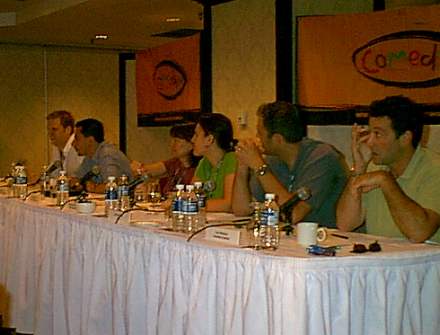 Just For Pitching! panel holds forth on television. (Note Comedy Central's Lou Wallach wiping away tear of joy-- such is their love of the medium of television and the emotion associated with same!)
Just for Pitching was created by Pat Ferns. And we admit here to grossly under-identifying him in last year's update as "a diminutive, bearded fellow from Banff Television" without ever actually
telling you his name.
Give credit where credit is due, we say. (Be advised, we get nervous just using the word "credit," but that's a whole other ballgame.) Last year, we described the scene thusly:
Described as "a platform for comedy ideas and proposals to be pitched to a panel of broadcasters," JFP was presented by JFL in conjunction with Banff Television. It was held in one of those function rooms at the Delta (which was SRO!) and set up with the "panel of broadcasters" at one end, and a platform with a podium and a big-screen TV at the other. In between the two was a wide swath of nothing and the spectators sat five deep on either side.
(Hey, why not use spare parts from previous years' updates and save a few keystrokes!) This year, because of popular demand, the venue was expanded... but the configuration was all wrong-- lots of obstructed views and pillars and such-- too bad, a minor quibble, really.
We sat on the end nearest the panel... we just can't get enough of "exec speak!" And some of the quotes that burbled from their mouths were riotous! "The bad sitcom is dead." was one of our faves. "Mediocrity is no longer tolerated." (Gina Girolamo of NBC) was another. And we actually heard a television executive preface a sentence with, "I may be wrong, but..." (CBS' Brian Banks) It is generally agreed that Ann Maney is the funniest TV exec in the biz. (We even proclaimed last year that someone should build a sitcom
around her
) We also love the way the execs assign nicknames to their favorite television series. They refer to
Arrested Development
as
"Arrested"
and it's never
Curb Your Enthusiasm,
it's merely
"Curb!"
Reno 9-1-1?
Make that
"Reno."
Is that tres cool, or what?!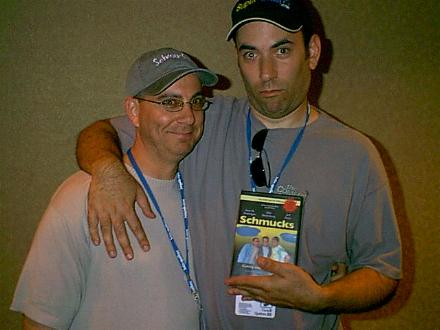 Hey, look! It's
Jeff Korn
and
Dan Rosenberg
! The Schmucks guys, doing some impromptu pitching of their own.
This year's field of eight pitches was, it was generally agreed among those who had attended in '03 and '04, weaker overall than last year's. There were some genuinely entertaining and laugh-out-loud funny moments throughout, but there was a general sense among those in attendance that something had gone terribly wrong with the Just For Pitching selection process between this year and last. We theorized that perhaps there were far fewer submissions this year-- we subsequently learned that
the number has doubled!
There's one theory shot to hell.
Greg Proops
, leading off in the number one slot, demonstrated just how it should be done. His pitch was lively, and humorous and he defended his idea with vigor... and he sold himself nearly as much as the project.
Kurt Metzger
scored big with his pitch of a series idea called
Paladin
, but again, he ended up not so much successfully pitching his show idea (which, it was agreed, was rather indistinct), as much as he sold Kurt Metzger-- as a writer, as an idea mill. Which was something that many or most of the others neglected to do.
Fortunately for the pitchers of
Comedy Makeover
(
Thor Ramsey, Leland Klassen, Daren Streblow
), we (the editors of this publication) were situated at the other end of the ballroom. Elsewise, we might have tackled the trio and pummelled them midway through their tapdance. We shall you spare the most odious features of their "Reality/Game Show" and just tell you that they came from a negative place. (So un-SHECKYlike.) Their main thrust was "to rid the world of hack comedians." The premise was
What Not To Wear
meets
Last Comic Standing
with none of the cheery wit of the former and all of the humiliation of the latter. (SHECKYmagazine editor Brian McKim actually groaned audibly when one of the team suggested that audience members might, at one point in the progression of the series, be supplied with a basket of rotten tomatoes! That's right. Here's comedians suggesting to TV producers, in front of a room full of comics and industry, that civilians be given objects and be encouraged to hurl said objects
at comedians.
Jesus wept.)
We're planning on submitting an idea for next year's Pitchfest:
Last TV Executive Standing!
We put nine television executives in a house with
Todd Glass
! We may be wrong, but, we're of the opinion that the bad reality show is dead!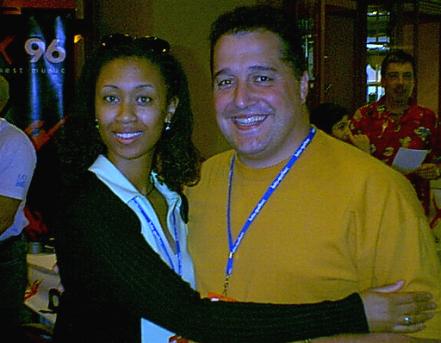 Leighann Lord
and
Joe Starr
standing still while strobe light washes over them!
AGAIN WITH THE RAW DATA!
NEW FACES/Facades Nouveau: Tom Clark, Hal Cruttenden, Dominique, Jon Fisch, Marina Franklin, James Johann, Rodney Laney, Eddie Pence, Rob Pue, Stephen Rannazzisi, Kevin Shea, Josh Sneed, Wil Sylvince, Marc Theobald, John Viener, John Wessling, Joey "J Dub" Wells, Cal Wilson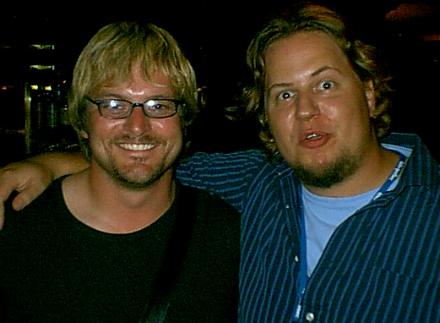 Jason James
and
John Wessling
at the Delta Bar.
We had tickets for Thursday evening's Bubbling With Laughter, but we got caught up in administrative/HTML matters. We began to feel like those war correspondents who never leave their rooms at the Al Rashid or who only go down to the bar and ask those returning from the front what the war is like "out there" beyond the concrete barriers.
After some intense schmoozing/reportage at a packed Delta bar however, we managed to get a sense of how the festival is going. We heard that the New Faces shows are actually quite good this year. And, fancy that-- the comics are over the age of twelve! We heard that Smigel, er,
Triumph
, wowed the crowd at his "Make Poop, Not War" show (it started a half-hour late, it was in a huge theater with cabaret-style seating). We heard a vicious, unsubstantiated, yet wildly amusing rumor that
Dane Cook
puts makeup on his stomach (he frequently exposes his midsection during his phrenetic sets, this much is substantiated). We hear positive buzz about Mini-Kiss-- it's a bunch of midgets who do a Kiss tribute act... in full Kiss makeup... we'll let that sink in. One of our favorite quotes of the festival: Kent Emmons of All-Comedy Radio told us, in all sincerity while discussing Mini-Kiss, "Yeah...I shared an airport shuttle with the mini-Paul Stanley!" He says he hadda help the Kiss-let up onto the bus. Favorite exchange overheard: "Does the mini-Gene Simmons have a big tongue?" The reply: "It's big for a midget!"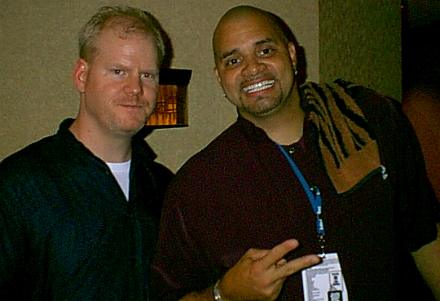 Jim Gaffigan
and Mckim's late Uncle Charlie's favorite comedian
Sinbad
Fran Solomita
is up here flogging his excellent documentary film "When Stand-Up Stood Out" You'll recall that SHECKYmagazine was present for the Boston premiere of same. (Read about it
here
.) A contingent of Boston comics (many of whom are featured in the film) are expected to converge on Montreal tonight (Friday) and perform Saturday night after the film's screening at the Cinema du Parc.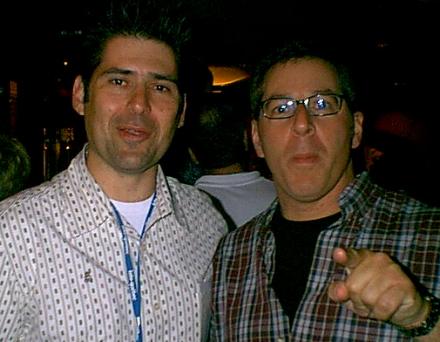 Film producer ("When Standup Stood Out") Chad Sahley and the film director/comedian
Fran Solomita
The Montreal Gazette is, once again, spilling oodles of ink on the Fest. Receiving positive buzz in today's paper are
Bonnie McFarlane
("I don't know if I hate it or loved Bonnie McFarlane's bits about women and rape, but the woman can both bruise and amuse and that's rare"),
Brad Zimmerman, Dane Cook
and
Jimmy Tingle
were also praised in the coverage of the Gala. On a negative note, everyone seems weary of
Wayne Brady
, or at the very least, they're tired of improv. They couldn't say enough snarky things about the hijinks of Brady and sidekick Jonathan Mangum (whom we misidentified as Jonathan Mann in yesterday's update) and they were perplexed and somewhat annoyed at the fact that Brady hosted two consecutive Galas. (No word on whether or not Brady slipped up and referred to himself as "Brain Weighty," but we'll keep inquiring.)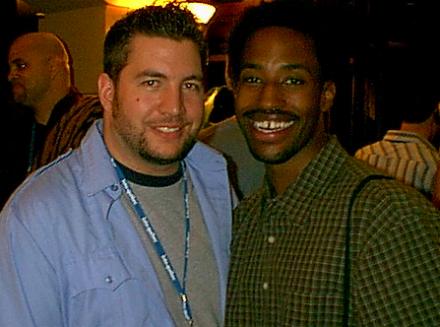 Jimmy Dellavalle and
Dwayne Perkins
in a two-shot
(Note Sinbad's head popping out of Mr. Dellavalle's back!)
It seems that our Festival Buddy
Joe Starr
has been creating positive buzz at every opportunity-- kicking ass and taking business cards. "Joe Starr, a standout, who reminded me of Jackie Gleason who should definitely have his own sitcom." If anyone comes out of this conflagration with anything resembling "a deal," it'll be Starr.
CRANKINESS, THE SEQUEL
Traci Skene
wishes to disabuse any and all of the notion that she is at any time, in any way, indulging in what is popularly referred to as "flirting." Three times last night, by three different parties, she was scurrilously accused of flirting-- with three different men-- none of them her husband. And despite her copious prostestation to the contrary, the charge was made repeatedly. Now hear this: Traci would like to state categorically that she is NOT A WHORE. This should do it.
And,
Brian McKim
would like to state that he is not gay. It was just a nice shirt (see photo).
Frank DeCaro
(Sirius Satellite Radio,
The Daily Show
) summed it up rather nicely when he observed to Dan Rosenberg, "If he's not gay,
that's a great shirt!"
To summarize: Traci isn't a whore. Brian isn't gay. Not that there's anything wrong with that or that. This ends the crankiness portion of the show.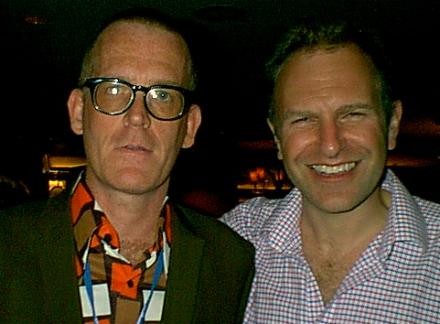 SHECKYmagazine editor
Brian McKim
and his new favorite comedian
Simon Evans
at the Delta Bar
L.C.S. Season Three-- Breaking News...
Season Three of Last Comic Standing?-- All ten from Season One vs. all ten from Season Two. It's official. Bank on it. We got it third-hand from a very reliable source... who got it from a very reliable source... etc.


Thursday, July 22, 2004
SHECKYmagazine @ Just For Laughs '04!
We crossed the Pont Champlain at just about 2:45 PM Wednesday amid the oppressive heat and humidity that is the trademark of mid-July Montreal! Traffic was moderate as we made our way through the center of town and secured our lodging for the next four days. We got to the Delta and stopped briefly and spoke with
Eddie Gossling
(busy this week hosting a Bubbling With Laughter and gracing a fistful of other shows) and
Jimmy Pardo
(also busy hosting a Best of the Fest and appearing nightly).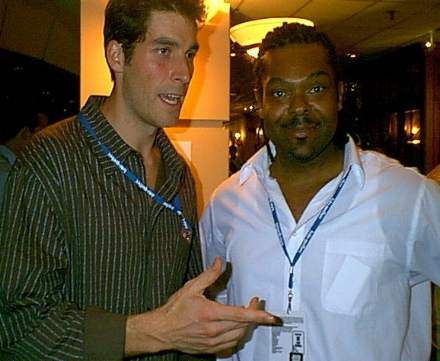 John Viener
fakes having a conversation with Enss Mitchell of the L.A. comedy club, Comedy Union (and, no, we don't think that's a typo!)
It being Wednesday, all were relaxed and the Delta was relatively calm. We obtained our press laminates (nice design this year... said a JFL employee when we remarked as such, "Yeah! We outsourced them!"), signed up for the Industry/Talent Basketball game and found to our surprise that we had been granted passes to Wednesday evening's Gala. If you're playing along at home, that makes us 3 for 3 in getting the tickets we asked for. (This year's JFL is particularly rigid when it comes to handing out tix. We were actually required to "put in" for shows three or four weeks ago when we put in for our press credentials. It's a whole new JFL world out there-- each year, they clamp down further and further on the spontaneity. Not that we're complaining, mind you. Just observing.) We headed back to the Royal Vic to pore over the schedules and get a feel for this year's fest.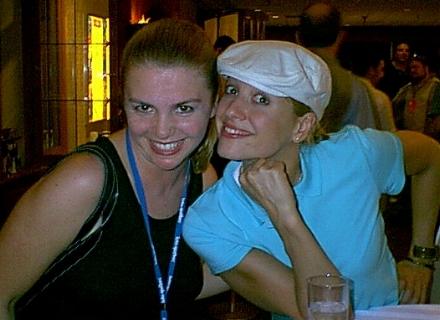 Traci Skene

and L.C.S./SHECKYmagazine columnist

Bonnie McFarlane

posing at the Delta

We had just enough time to relax a bit, check the email and then prepare for evening number one. Our Gala started at 7:00. We walked over to the Theatre St. Denis (through molasses-like humidity) and were in our seats with plenty of time to spare. Hosted by
Wayne Brady
, the bill also featured
Gerry Dee, Frank Spadone, Nina Conti, Dom Irrera, Simon Evans, Mike Wilmot
and
Bill Burr.
WEDNESDAY NIGHT GALA
Wayne Brady solicited "help with this evening's performance" by distributing cards prior to the show that asked audients to write down "the title of a song that doesn't exist." The idea being that Brady, Master of Improv and all that, would then take the titles and make up a riotous song on the spot. The evening was filled with three giant pockets of such "interactivity,"-- soliciting suggestions for this exercise or that improv game. Wildly entertaining to the folks in the house who obviously dug improv. (Less so to the editors of a publication about standup comedy. We gamely tried to gum up the works by writing the non-existent song title "Brain Weighty," never dreaming that he'd actually use it-- just hoping that forever after, Brady would be permanently jammed up when it came to correctly pronouncing his name! And, when Brady and his partner in improvised crime Jonathan Mann implored the audience to yell out "random words," we yelled out "RANDOM!" Sadly, we weren't heard over the din.)
The Gazette, in their assessment of the show, under the category of "No More," listed "Audience participation and rehearsed-like improv." Ouch!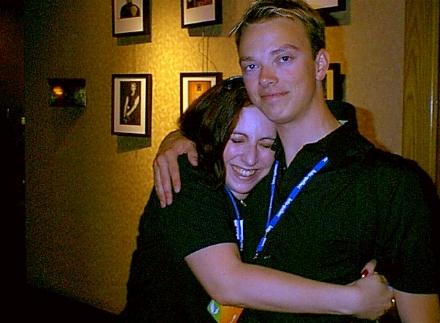 Canadian journalist and Friend Of SHECKYmagazine Sharilyn Johnson with Homegrown Comeic Competitor

Trevor Boris

at the Delta
What could the producers of this Gala be thinking? The first comic, Dee, did a huge chunk of material about being Scottish but growing up in an Italian neighborhood. The next comic, Spadone, did, quite understandably, his entire act on
being
Italian. The third act, Conti, had an Italian surname. And then Dominic... well, Dominic
is Dominic!
And, because there was no warning ahead of time that the show might have an Italian theme, the effect was that the comics (with the exception of Irrera) appeared to have been the victims of an elaborate scheme or a practical joke to make them appear... the same? Unoriginal? (Of course we know they're neither, but we felt for them.) It was odd. It reminded us of that infernal show on Comedy Central long ago that consisted solely of comics' acts chopped up into pieces then strung together under various themes ("Next up, comics talk about getting their dick caught in a toaster...") The individual bits, the individual comics were all original, but lumped together, juxtaposed, if you will, in this manner they all appeared to be somehow diminished. Such was the case this night. The Gazette even remarked (again, under the "No More" heading): "Italian jokes... No, make that
lame
Italian jokes."
We lay blame for this squarely at the foot of the producers. They make a big stink about carefully crafting a show (rehearsals, faxing in each comic's routines, etc.) and then they go and do this?
Again, from the Gazette: "Dom Irrera-- He's what standup comedy is supposed to be about: Attitude." All three of the Gazette's Experts judged Dominic to be the evening's "Best Act." We concurred. He saved the first half of the Gala.
The second half of the Gala was kicked off in grand style by British comic
Simon Evans
. Later on at the Delta, SHECKYmagazine editor
Brian McKim
spied who he thought was Evans entering the Delta bar. He bounded up to the alleged Evans, thrust out his hand and said, "Nice set!" Trouble was McKim was congratulating CBS comedy development executive Brian Banks-- a man who bears a passing resemblance to Evans. The same thing happened to SHECKYmagazine editor
Traci Skene
at last year's JFL, only in reverse. Someone mistook Skene for one of the comics that had performed earlier and congratulated her on her performance. The quick-thinking Skene responded, "Ah! Thank you very much! I had a great time!" then scurried away without ever correcting the errant congratulator. Banks hadn't the presence of mind to do the same, however. He looked momentarily puzzled, then mildly frightened, then set McKim striaght.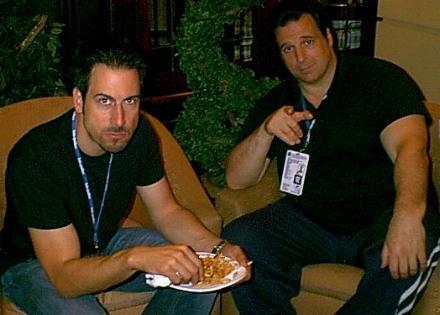 Laughrodisiac-er

Joe Matarese

dines with Wise Guy-er

Rich Francese

in the Delta parlor Wednesday evening
File this one under "Comedy is soooo subjective": The ventriloquist on last night's Gala was placed by two of the experts in the "No More" category, another put her in the "More, More!" category! One called her "brilliant," another called her "an amateur hour babe ventriloquist."
DATING IT
While walking back from Theatre St. Denis, we looked up St. Laurent and noticed "Dating It " on the marquee at the Cabaret. We ambled on in and, despite the ticket crackdown, we were waved on into the room to fill one of the handful of tables in the rear of the balcony. The show had been going on for a good half-hour by that time, so we only missed the first speed date.
Dating It is described as "six comedians perform their sets followed by three-minute speed dates with audience volunteers." Hosted by
Colette Hawley
, it was a spirited, sometimes raucous game show/comedy show hybrid that was wildly entertaining and on this night featured the comedy of
Jennifer Grant, Jon Fisch, Ted Alexandro, John Viener, Bonnie McFarlane
and
Marina Franklin
. At past JFL's we were delighted by another Hawley-hosted product, Confessing It. The raunchy and sometimes dark Confessing It is kinda like
Taxicab Confessions
only funnier (intentionally so, in this case)... with Hawley as the cabdriver.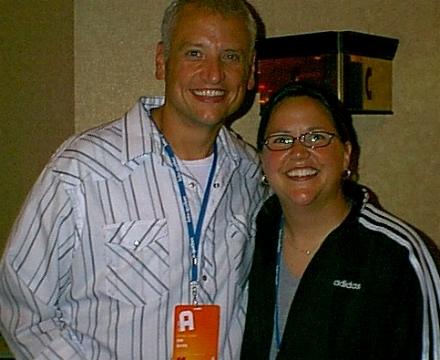 With the top 15 per cent of his head removed, it's still

Eddie Gossling

with Eve's Tavern performer (and wife)

Megan Mooney
HOMEGROWN COMIC COMPETITION
Held last night, the Homegrown Comic Competition was hosted by
Elvira Kurt
and won by
Jay Malone
. Competing were
Paul Bae, Trevor Boris, Graham Clark, Jennifer Grant, Toby Hargrave, Gilson Lubin, Sugar Sammy
and
Allyson Smith
.
RAW DATA
Laughrodisiacs:
Simon B. Cotter, Joe Matarese, JOe Starr, Leighann Lord
and
Bill Burr
Evening At Eve's Tavern:
Susie Essman, Maggie Cassella, Leighann Lord, Nikki Payne, Lynne Koplitz, Cal Wilson, Bonnie McFarlane, Megan Mooney
and
Tammy Pescatelli
One-Person Shows:
Basile, John Pinette, Jackie Mason, Carolyn Rhea
Wise Guys:
Dom Irrera, Rich Francese, Joe Starr, Tammy Pescatelli
and
The Doo Wops
Bubbling With Laughter:
Ed Byrne, Jimmy Tingle, Tommy Tiernan, Earthquake, Greg Fitzsimmons, Adam Ferrara, Ryan Belleville, Boothby Graffoe
and
Dane Cook
More raw data to come!
CRANKINESS
We said it when we went to the Calgary Festival and we'll say it now: Festival Organizers should tell festival attendees
exactly
what is required to enter your fair country! It seems that stories abound at this year's fest of industry and artists that were denied entry to Canada because of insufficient identification! Sure, sure, we know it's incumbent upon the inbound traveller to know exactly what's required, but hey, would it kill you to email a reminder that it's near impossible to get into Canada these days using only your Sam's Club membership card and a Xerox of your high school diploma?!? These guys and gals in customs are looking for
passports!
Real, hard, photo I.D.! Sure, it makes for a great laugh or two during the Gala set, but some folks are being turned away, we hear!
More updates will follow tomorrow! Tune in for details on our visits to Pitching It, more details on Delta Bar schmoozing, more pics (of course!) and we'll reveal who made it into this year's New Faces!