"Pleasant & Gross"
McKim & Skene's Debut CD!

Only $12 USD, incl. S & H!
It's easy with PayPal!
Editors note: Here is the chronologically ordered final bundle of all our Just For Laughs coverage. It contains 8800 words and 20 photographs depicting 39 people. We thank the people from Just For Laughs for their cooperation in enabling us to bring detailed coverage of JFL to our readers for the ninth year in a row.
Thursday, July 19, 2007
We're in Montreal, @ Just For Laughs 2007
We decided to break with tradition. In years past, we lit out just before dawn, getting out in front of the NY Metro traffic that plagues upstate New Jersey, driving for eight hours or more, straight through to Montreal, arriving tired, soggy and irritable. And without any nap, we would bull through night number one, eventually staying up for nearly 24 hours. Not a good way to kick off four days of Fest coverage.
This time, we decided to do our trip up to Montreal in two halves. We headed out Tuesday night at 11 PM, under cover of darkness, and got as far as the appropriately named Catskill, NY, before checking into our hotel. On Wednesday AM, we cruised in a leisurely fashion up 87, arriving in Montreal just after 3 PM.
This time, we're tan, rested and ready.
(Turns out it was a doubly good idea, since the weather from D.C. to Boston-- and beyond-- was craptastic. And a good chunk of I-87 between Albany and Plattsburh was torn up by small squadrons of men and machines supposedly laboring to re-pave the road.)
This year's logistical jiggering was made necessary by the fact that the Female Half is scheduled for surgery on Tuesday. For each of the past eight years, we've so devastated ourselves physically that we've ended each tour of Fest duty as husks-- physically exhausted, emotionally drained, zombie-like. It just wouldn't due to show up for an appointment with the surgeon's knife in that kind of condition. So the decision was made to try to give ourselves some sort of physical margin. Rather than start out our mega-weekend in a sleep deficit, we resolved to ease into things gently.
While disgorging the contents of our rental car and humping our belongings up to our room at the Royal Vic, we were assisted by the just-arrived
Sharilyn Johnson
(FOS and Winnipeg journo), who was also lodged at the Royal Vic.
Johnson and The Male Half strode over to the new Fest HQ-- this year, it's the Hyatt on Ste. Catherine-- to pick up this year's Media laminates. The Male Half's is missing his name and the Female Half's has a little too much name! (Johnson suggested that the "Traci, Traci Skene," identification is akin to the "Bond... James Bond" signature introduction made popular by Sean Connery.) The Female Half says she's going to insist that everyone address her as "Traci Traci."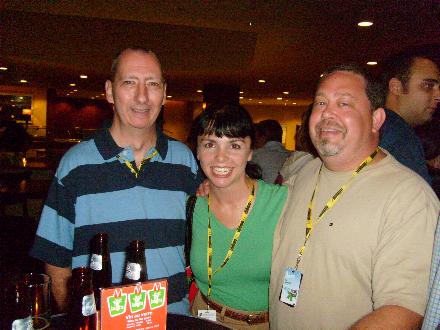 Terry Turner (l) and Joe Satterfield (r) of Last Laff Productions flank The Female Half of the Staff
The Hyatt is on a hot corner of Montreal-- just across from the Place des Arts, at Ste. Catherine and Jeanne Mance-- and the hotel is a postmodern monstrosity that incorporates shopping (lots of shopping, an entire four-floor atrium full of shopping), dining and entertainment into a confusing mess of concrete and glass and terazzo. It took us several minutes (and a whole lot of squinting and pointing at a "You Are Here" diagram) before we found our way to the elevators. The only way to get to the hotel lobby is to take elevators! Who dreamed that up? "Welcome to the Hyatt-- We hope you're not too pissed!" It's the ideal hotel for people who like riddles. (We later found another pair of elevators that takes one directly to the lobby... sort of. But it's a bit off to the side and they're rather nondescript. They rather look like elevators that might take you to CONTROL Headquarters if you push the wrong button... or, worse, to the offices of SMERSH!)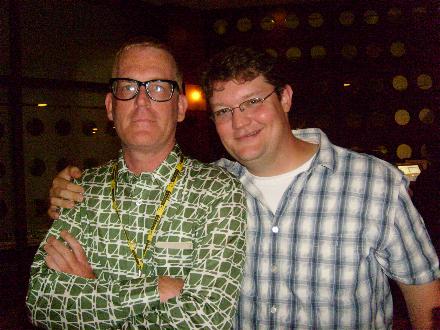 The Male Half of the Staff (l) with Reno Collier at the Hyatt
Once up on the sixth floor (That's right, the lobby is on the sixth floor!), we noticed the vast expanse that was the hotel bar. It's huge. It's dark. It's got plenty of schmooze space. This place has potential!
(Side note: While taking the elevator up to the lobby, a gentleman in our car asked, "Hey, do you work for SHECKYmagazine?" To which the Male Half replied, "Work for it? I am SHECKYmagazine!" Hey, who needs a name on his media pass? Obviously not The Internationally Recognized Male Half of the Staff! The Female Half of the Staff, however, points out that, not only is she not recognized on the street, she is seldom given given any credit for the mag. "So, not only do I need a name on my tag, I need it on there twice!" says she.)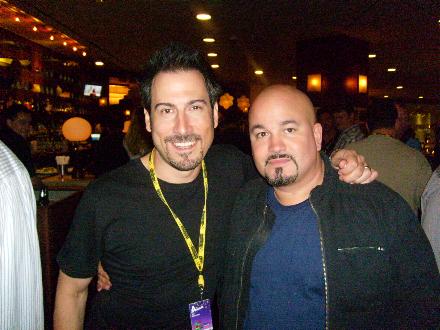 Joe Matarese(l) and Robert Kelly at the Hyatt
The Daily Schedule lists, among other things, the major American cinema release "Hairspray." We heard a news report/review of the film on the way up in which it was said that Travolta affects a "dead-on Baltimore accent." We concluded that he merely sounds like Dr. Evil from the Austin Powers movies. This is not the first time that Travolta has failed miserably trying to mimicked a regional accent. In "Blow Up," the miserable turd remake by Brian DePalma, it was said that he brilliantly captured a Philly accent. Trust us, as folks who suffer through the Philly accent on a daily basis (and as two people who went to great lengths to expunge the cursed accent from our own speech), he embarassed himself on that count. The PHL and the BALTO accents are nearly identical... and equally annoying.
The big show tonight, it seems, is The Homegrown Competition, at Cabaret Just Pour Rire. It'll be hosted by John Dore and will feature
Nick Beaton, Paul Bennett, Claire Brosseau, Casey Corbin, Ivan Decker, Sean Lecomber, Brendan McKeigan, Don Wood
and
Peter White
. (Editors note: Sean Lecomber and Nick Beaton came in first and second respectively in Wednesday's Homegrown Competition.)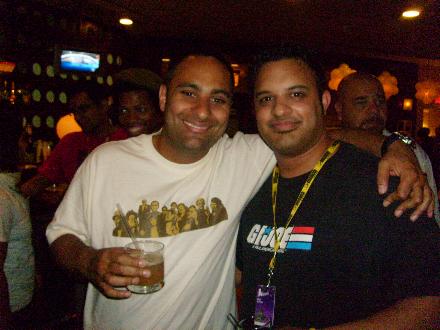 Russell Peters (l) and Mark Saldana at the Hyatt
The sked accidentally listed the
Zach Galifianakis
show's description under the heading of "Defending The Caveman," at the Centaur Theatre (the second of twelve showings up here). Boy are those Zach fans going to be confused! Will the Caveman fans stay away? We'll see. (The slick Horaires des Spectacle, or show schedule as us mere mortals call it, lists the Caveman show, but, mysteriously, it doesn't say exactly who will be portraying the title character! Hmmm... perhaps they'll merely pluck someone from the audience and run the words to the monologue on a discreetly placed monitor. It'll be "Cave-e-oke!" If that's it, it's brilliant!)
We hung out on Ste. Catherine, outside the Theatre Ste. Catherine, and at about a half-hour after midnight, we were waved in to see "The Green Room," the interview show cooked up by
Paul Provenza
. It was a hit at last year's Edinburgh Fest and it's here for three nights in a row. Tonight's guests were
Jim Jeffries
, three of the five Kids In The Hall (
Scott Thompson, Kevin McDonald
and
Dave Foley
) and
David Cross
and
Bob Odenkirk
.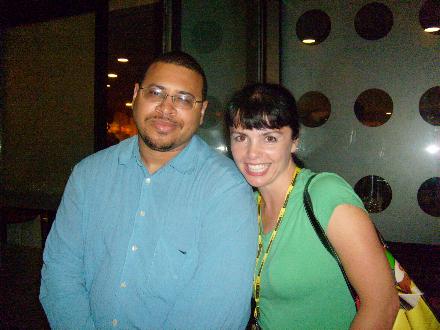 Hugh Moore (New Faces) with The Female Half of the Staff at the Hyatt
Jeffries, readers of this mag will recall, is the comic who was assaulted onstage at the Comedy Store in Manchester. The attack was made famous via YouTube, when video was posted a few months back.
The whole idea behind The Green Room is that comics talking to comics is an entertaining thing to witness. We couldn't agree more. WHen it was just Jeffries out there, things moved well and, by golly, it was a hoot. When The Kids emerged from backstage, and the couch was crowded with bodies-- and there weren't enough mikes to go around-- things slowed quite a bit. When Odenkirk and Cross came out for the final segment, upping the body count onstage to seven (and increasing the comic to mike ratio to over 2), the wheels fell off.
To be sure, many in attendance were thrilled to be in such close proximity to their particular comedy idol(s), and it was rather interesting to see these characters in a situation significantly less contrived than that which we normally see them. But it was maddeningly inconsistent.
We may go back and try to get into a second installment on Thursday night.
The Hollywood Reporter has their special Fest editions out on the tables. And, as usual, they're packed with quotes-- from the usual suspects-- that range from the ridiculous to the insulting to the incoherent.
Laugh Factory owner Jamie Masada has seen many talents pass through his club and go on to show-stopping turns at Montreal's annual Just For Laughs Comedy Festival... and he's please about the changes he's witnessed in the way today's young performers command club and festival stages. "It's a very different energy from the early '80s, when comics stuck to a routine that went joke, joke, joke," he says. "Now the audience wants more than that, and the best performers can do it."
File that one under "Ridiculous."
The author of the piece, Chuck Crisafulli, seems to have crafted a story in which the organizers of this year's festival (and many of the folks interviewed for the piece) are all too eager to apologize for standup as it is traditionally defined. There seems to be some kind of bizarre, subconscious, accidental collective consciousness that holds that we're all rising up as a nation and letting everyone know that we've had it up to here with comedians who are merely funny! We want "versatile, less-easily defined performers!" We want comics who will explore that "new and encouraging freedom in the relationship between comic and audience!" By golly, that's what we've been missing all along! (Everyone-- check your shoes... we smell horseshit.)
The Top Prize for Outlandish Statement, the Palm D'or for Horse Manure, must go to
Greg Proops
.
The biggest and best change over the years is that there are now Asians and women and gays all allowed on stage, and there are more than just a couple of black superstars," says Gregg Proops... "Everbody plays to a general audience now, not just people like themselves. We've all become more egalitarian about comedy. A white boy can like

Margaret Cho

and

Dave Chappelle

and doesn't have to sit around worrying about it."
Saaaayyy whaat?!?!?
The above indicates an astounding ignorance of entertainment history in general and comedy history in particular. Asians and women and gays are allowed on stage? WHat planet has he inhabited for the last forty years? On this planet we have books that have all kinds of accounts of Asians and women and gays who were allowed onstage, as far back as 100 years ago. And, if you don't dig books, there's video, film and recordings.
We're so thrilled that "everybody plays to a general audience now, not just people like themselves." Is he serious? Has he ever heard of The Ed Sullivan Show? Or vaudeville? It was in all the papers. Has he heard of Bert Williams? Godfrey Cambridge? Minnie Pearl? Dick Davy? Moms Mabley? Tamayo Otsuki? Pat Morita?
In point of fact, however, with the advent of packaged tours and MySpace and Def Comedy Jam and Que Loco and computer-assisted market segmentation, and Cray computers crunching terrabytes of raw demographic data into multi-color spreadsheets, comedians are ever more willing to "play to people like themselves." And the audiences that we're seeing aren't nearly as diverse as they were in 1986 or 1987. It seems that comics who seek out such arrangements-- and the audiences who pay their money to see them-- are exceptionally pleased with the current state of affairs. It is not an especially bad thing or an especially good thing-- it is merely a thing.
It's frustrating when someone tries to re-write (or deny) history. It's doubly frustrating when someone seems to be in denial of the current reality.
We might remind Mr. Proops that he's showcasing his talents at a festival that favors segregating its performers-- Eve's Tavern, The Wise Guys (Italian), The Asian Invasion, the Bar Mitzvah Show, etc. Once again, not a good thing, not a bad thing, just a thing.
Only
Craig Ferguson
and
Tim Allen
come to the defense of the merely humorous. Only those two are skeptical of this new dynamic that some insist is poised to revolutionize standup comedy as we know it. (And we sense that the author merely included the quotes as a journo-speed bump, a dollop of texture before the big windup.)
Thursday, July 19, 2007
Last... Comic... STANDING!
Sorry. We couldn't watch. We were in Montreal, at the Just For Laughs Festival. So, we figured, why take a break from the biggest comedy festival in the world to watch a reality series about standup on American television when we're surrounded by live standup here? (We totally forgot to even videotape it!)
There were plenty of LCS alums here:
Alonzon Bodden, Kathleen Madigan, Ty Barnett
, etc. We even ran into Montreal auditioner
DeAnne Smith.
The place is crawling with LCSers.
We'll be in New Jersey next Wednesday night, and we will definitely sit down in front of the television... facing it... when LCS next airs. And we'll crank out our analysis of the episode, we promise.
Friday, July 20, 2007
Just For Laughs '07-- THURSDAY
A cursory examination of the back of our Media laminates reveals that possession of said credentials entitles us to "Stay out of the way" and "Shut the fuck up." And this year, unlike in past years, we weren't asked to submit ticket requests when we filed for our credentials. Oversight? Who knows. Basically, we're on our own. It's up to us to somehow weasel our way into any events we fancy. Fortunately, we know damn near everyone up here with the "Artiste" designation. And we know a good chunk of the Industry folks and the "Accompaneurs." (Which is the fancy French word for hangers-on.)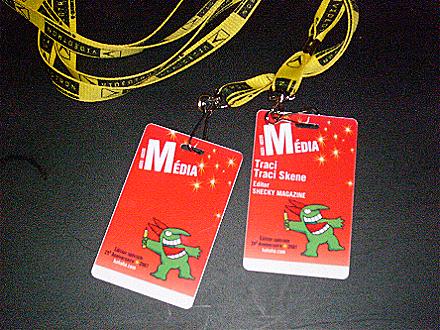 On Wednesday night, when we were hanging out on Ste. Catherine, waiting to get a seat for The Green Room, there was a rather scary incident acted out on the street in front of the theater-- a babbling (a Francais!) homeless dude was being loudly and relentlessly hassled by a scarily persistent and disconcertinly focused crazy dude. (Everyone identified Dude # 2 as a "crackhead!") It made for an edgy minute or two. This end of Ste. Catherine is... dicey? Previously, we haven't ventured past St. Laurent, where Club Soda is. Past Ste. Laurent the cast of characters gets a bit more... exciting.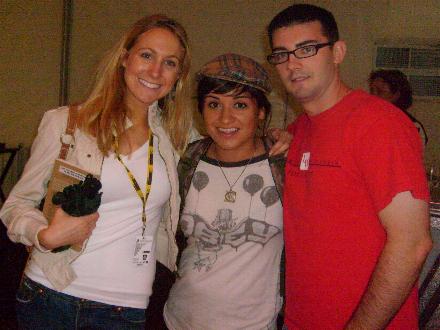 Left to right: Nikki Glaser, Sabrina Jalees, Tommy Johnagin
We heard of another incident, that took place last week, outside of Club Soda.
Dave Attell
was waiting to go on at the Nasty Show when he saw an altercation spill out of a neighboring bar. One of the "celebrants" was emphasizing his points with a machete! The blade-toting inebriant then chased his fellow partiers back into the bar. Attell was, understandably, fascinated. In fact, the story goes that when the cops arrived to sort things out, Attell followed closely behind. Must be all that training on Inomniac.
Has Canada or Quebec or drastically altered their mental health policies? We don't seem to recall being anywhere near frightened on the streets of Montreal. But it seems like things have gotten a little less frivolous and just a couple of ticks more adventurous in these parts.
And we heard a rumor that yet another comic was almost sucked into a "bum fight."
And The Male Half was harassed by a drunk guy in a small bar between Club Soda and Theatre Ste. Catherine. He was bellowing, "Hey,
Drew Carey
! Hey, Drew Carey!" And he yelled it with an edge, more like he was seeking not so much an autograph, but a vital organ. The Female Half had visions of riding on the back of a transvestite with a broken beer bottle in one hand in an attempt to quell any violent outbreak, rather like a postmodern version of a Canadian Mountie.
We were listening to Radio 360 on the drive up and Stephen Harper was telling a crowd on his recent trip to Chile that Canada currently has the strongest economy of all the G8 member nations. Is any of that prosperity trickling down (or over) to Quebec? The above crackhead/homeless confrontation was mentioned in a Gazette review of Wednesday night's Green Room show, so it wasn't our imagination. And Section A of today's Gazette has an account of someone getting stabbed, in mid-afternoon, at the Peel Metro station on Thursday. Hmmm...Peel is only a few blocks away. What's going on here, anyway? Perhaps the Fest will be moving to Toronto after all, despite statements to the contrary.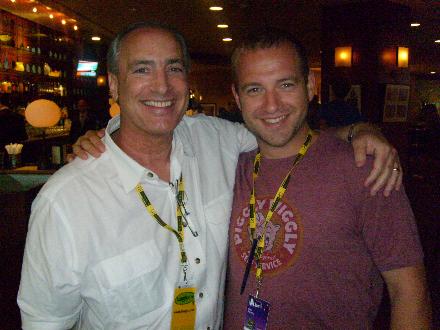 The newly svelte Neil Leiberman (l) and John Beuhler (Just For Pitching)
And, just up the street, amid this all is The Hyatt. We said that the Hyatt had potential. Compared to the Delta, it's closer to some of the main venues-- Club Soda, Theatre Ste. Catherine, Spectrum-- so close that the Female Half can walk to them-- and back!-- in four-inch heels. But it only takes a 2-1/2 block walk to the north before things start to resemble a combination of "Blade Runner" and "Panic In Needle Park." (Was that too obscure of a reference? Well, it beats "the bar scene from 'Star Wars'," doesn't it? Sorry... we've been schooled over the past 48 hours about Hack this and Hack that, so we're on our best behavior... NOT! Sorry. Hadda throw that in!)
And the Hyatt does have some good things going for it-- it sits atop a giant mall that has a grocery story and a food court. (A "Food court" in Montreal is ten times better than any similar entity in the States. And the same goes for fast food. If for no other reason than one can purchase inexpensive and fast
cuisine Libanaise
on nearly every corner.)
But the bar is a disappoinment. Firstly, they stop serving food at 11:30 PM! Bad idea, since a ton of people flood in there at about 11:31! Secondly, they overcharge for booze! And the exchange rate stinks these days, so you can't even fool yourself into thinking you're paying less just because the fiver has a portrait of Gene Wilder on it. (Well, it's not Gene Wilder, but it's some old Canadian guy and the bill is a bluish-purple color.)
They've concocted names for the pizzas and sandwiches-- specifically for the occasion! There's the George Burns, the Benny Hill, the Charlie Chaplin. And then, there's "Nachos and Salsa." Unless that's the name of an obscure comedy team from the Canadian TV Hall of Fame, we're puzzled. Why would they give everything else a comedy-themed name and not the nachos? Couldn't they at least have called it the "Cheech and Chong?" Or has Political Correctness so crippled the sense of playfulness up here that such a thing would be considered a hate crime?
Schmooze-wise, the bar is inferior to that of the Delta-- at least in our estimation. We're not sure why we don't like it. Perhaps it's some sort of feng shui/architectural/cultural mojo that makes it less than ideal for a comedy bar. Maybe it's merely the unfamiliarity of it. It just seems like there's too much room to spread out-- and it's not cramped enough to create that critical mass that makes for a truly great soiree. It lacks that Breakfast At Tiffany's party scene vibe. If it doesn't take you 20 minutes to get to the bathroom, it's not a good party.
We attended the fourth Just For Pitching. And the room wasn't set up the same way it had been in past years, with the pitchers on one end of a vast, empty expanse and the television execs on the other end-- and the crowd on the sides, anxiously swinging their heads back and forth as if at a ferocious tennis match. It was set up this year like a presentation at a convention of insurance adjusters or a gathering of x-ray technicians, with the pitchers and execs occupying the same dais, pitching to directly to the audience, practically stiffing the execs to their left. And it had about as much excitement as a gathering of insurance adjusters. Perhaps it was the barometric pressure. Perhaps it was the much smaller turnout.
We noticed that seven out of the ten pitchers were Canadian. And one of the non-Canadian pitchers failed to show due to poor weather in NYC. And it was announced at the outset that one lucky pitcher would be the recipient of a CBC development deal. Excuse us, it was announced that "the best Canadian pitch" would receive the deal. Curiously, though, the winner wasn't announced. Pitching honcho Pat Ferns said that the winner would be revealed by week's end.
Every year, we've delighted in discovering at least one keen bit of Execu-Speak-- a word or turn of phrase that captures our fancy and which we use around SHECKYmagazine HQ for the rest of the year. This year, we were taken by the twin concepts of "pre-watershed" and "post-watershed," to designate before 9 PM on the primetime schedule and after 9 PM on the primetime TV schedule. This will be much easier to work into casual conversation than "interstitial." Example: "Hey, honey, what's on TV tonight post-watershed?" Use it three times and it is yours!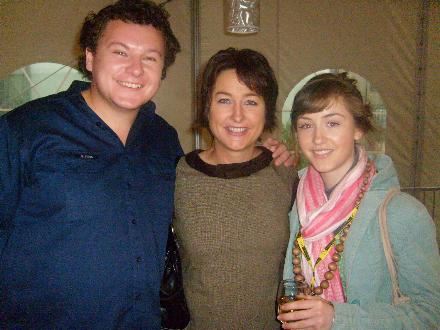 Left to right: Mick Dwyer, Fiona O'Loughlin, Biddy O'Loughlin
It's time for Dumb Television Executive Quote of the Day (sponsored by Bell Canada)!
In response to the pitch of "Business Johnson," a film short produced by Talia Raine and Casper Frank featuring an all-African American cast revolving around all-black neighborhood, U.K. Paramount studios Matt Tombs (emphasis on the "BS") said (and we're paraphrasing here): "Because the series has such strong African-American themes and references, audiences in the U.K. wouldn't/couldn't relate to it." To which we reply, if this is so, then why was Upstairs Downstairs such a huge hit in America? And why was Dallas a huge hit in Japan? (And in Saudi Arabia, of all places?) And how do you explain that The Female Half was delighted to discover an Australian comic who had a rather extensive knowledge of her native Philadelphia from watching reruns of The Fresh Prince of Bel Air? We're reminded of a quote from
Jim Jeffries
, who said, during Wednesday night's Green Room presentation, "I'll fuck anyone off the telly!" To put it another (less crude) way, people love watching weird shit on television. Love, love, love it!
And we applaud pitcher
John Beuhler
! He placed more emphasis on pitching himself rather than pitching his project ("That's Just John"). (Just like we advised folks to do in a previous year's analysis of Just For Pitching!) The panel of execs were taken by him and were enthusiastic about him. And he even got a spot that evening's Bubbling With Laughter on the strengh of his Pitching "performance."
Cocktails? Free cocktails? In a tent? Point us in that direction! Well-attended and sponsored by the JFL itself, it also featured plenty of fromage.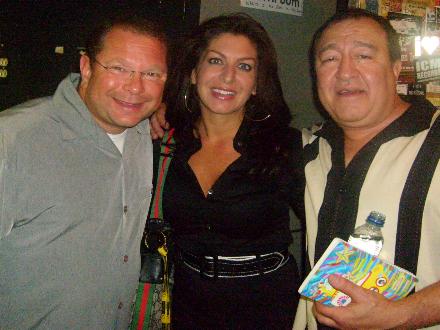 Left to right: Joey Kola, Tammy Pescatelli, Dom Irrera, backstage after the Wise Guys show at the Spectrum
We used our extensive connections to gain entrance to the 9:30 Wise Guys Show at the Spectrum Theatre. We know
Tammy Pescatelli
and
Dom Irrera
. And earlier in the day, we ran into
Joey Kola
-- that's the first time we'd seen him in nearly 20 years! So we were familiar with sixty per cent of the bill. The extremely charming and hysterical
Doo Wops
hosted and
Mike DeStefano
got the second half off to an edgy, roaring start. The Spectrum is a great, funky old former movie house converted into a funky old rock club that serves well as a funky old comedy venue! A packed house watched five veteran acts doing 12- to 20-minute sets-- it was... inspiring, uplifting. It's exactly what anyone could want in a comedy show-- 1,200 people going nuts with a pro in the driver's seat, kicking mighty comedy ass.
We swung through the Hyatt, picked up Matt Komen (whom we last hung with after seeing Brian Regan at the Scottish Rite Theater in Jersey in December) and headed on over to see the second installment of Provenza's "The Green Room." This time it was
Phil Nicholl, Fiona O'Loughlin, Jo Koy
and
Andy Kindler
, in that order, providing the laughs and the insight.

God's Pottery
opened up. They're performing in their own show as part of the festival, over at the Mainline Theatre. They're a couple of guys who parody a Christian musical act. One plays the guitar, the other brandishes a beatific smile. The song they played, "A Brand New Start With Jesus," had such an infectious hook and was delivered with such subtly exaggerated sincerity, we wouldn't doubt if they actually may have accidentally converted some of the people present! The verse, of course was riotous!
We forgot to mention
Team Submarine
, the comedy team that opened up Wednesday's Green Room-- two comics, Nate Fernald and Steve O'Brien, from Chicago who have very classic comedy team chemistry.
We're headed over to Andy Kindler's State of the Industry (at 2 PM), so we have to wrap this up.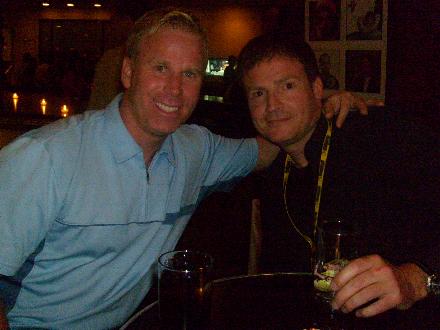 Gerry Dee (Last Comic Standing) and Steve Patterson at the Hyatt
Saturday, July 21, 2007
Just For Laughs '07-- FRIDAY
The most-asked question at the festival? "What time did you leave the bar last night?"
The second-most-asked question? "What time did
I
leave the bar last night?"
The tightly-wound artists are starting to ease up now, as they get their first (or first few, or last!) set(s) out of the way and the weekend arrives. By the time Friday rolls around there's a significant number of comics who are here with nothing to do but schmooze, party, vent and reflect. And Friday is also the day when Andy Kindler, who has been reflecting for the past 12 months, finally gets around to venting.
As promised, we skittered on over to the Hyatt in plenty of time to get a seat at the State of the Industry Address, which the program bills as "a charming mix of anger and jealousy" (Hmmm... That sounds like something SHECKYmagazine would concoct. We simply must look that up.) This year's celebrity introducer was KITH
Dave Foley
, who asked the over-capacity crowd to welcome, "the most self-destructive man in show business."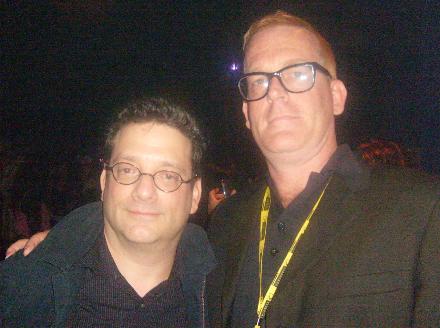 "The Most Self-Destructive Man In Show Business" and The Male Half of the Staff at the 80s At Midnight Party
It started 10 minutes late. No surprise there. It took him until the 29-min. mark to mention Hitler. No surprise there. What was a surprise? The tone. It was different. It was as close as he has come, in our experience, to a club set. Oh, sure, there were gags about ICM and Jamie Masada and Entertainment Weekly that provoked guttural, cathartic laughter among the folks in The Industry, but there was also reams of accessible material that would go over equally well in Uncle Fucker's Chuckle Hut (Credit:
Dana Gould
, circa 1989). And, in spite of Kindler's savaging of the comedy club business (complete with now-obscure references to Ken Muller, Dave Tribble, Tom Sobel and Brad Greenberg), this year's address sounded less like a diatribe and more like an audition set.
"Why do real estate people have headshots?"
He told of attending a funeral where the minister asked, "How is everybody today?" When the assembled mumbled feebly in response, the minister countered with, "Oh, c'mon! You can do better than that!" Several punchlines later, he exasperatedly mused, "Does everything have to be high-energy these days?"
He managed to invoke or savage Rene Descartes,
Margaret Cho, Joy Behar, Bill Bellamy
, Zach Braff, Sanjay Gupta and Norman Greenbaum. And he found new ways to hammer perennial targets like
Robin Williams, Whoopi Goldberg
, Arliss and Lorne Michaels.
He was particularly sharp in mocking Last Comic Standing.
"They describe Ant as a 'celebrity talent scout.' Two of those words do not belong."

"Ant is the only person who might be more unnecessarily gay than Bob Read."

"Last Comic Standing makes American Idol look The Kennedy Center Honors."
This year, the Fest insisted that Kindler host a new show on Saturday evening with the title, "State of the Fest." Kindler worried that it might cause confusion. In fact, he said that he'd been approached on more than one occasion by folks who were confused by the show, who thought that his SOTIA was now scheduled for Midnight on Saturday.
And, as in past years, Kindler hosted the Alternative Show Friday night at the Cabaret Juste Pour Rire featuring God's Pottery,
Sean Cullen, Eugene Mirman, Zach Galafianakis, Glenn Wool
and
Sean Lecomber
.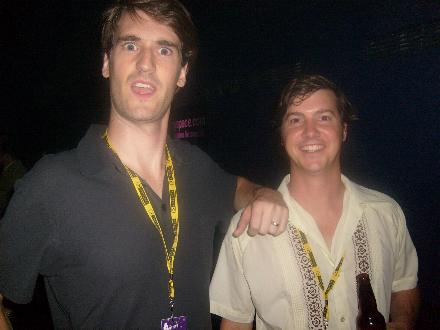 Murray of Stuckey & Murray (l) and Stuckey of Stuckey & Murray at the 80s At Midnight Party
Throbbing three floors above that very showcase was the 80s At Midnight party, sponsored by the Festival Just For Laughs and MySpace.com. We eventually made our way to that blast after taking in two earlier shows-- Short Bytes Cinema at Monument National and Jim Jeffries' one-man show, "The Second Coming" at Theatre Ste. Catherine.
Short Bytes is billed as "some of the funniest short films made for the web," so you can understand why we might be interested. (We just "released" our second short film, so we were curious to see what passes for the state of the art, short-film-wise.)
We were horrified.
First, the good-- The show was hosted by Stuckey & Murray, a funny guitar duo who capably handled the emceeing duties and got the show off to a rousing start. And the KickedInTheNuts.com presentation by
The Family Guy
's Mike Henry (he writes, voices and produces for the show) was amusing and Henry himself was charming.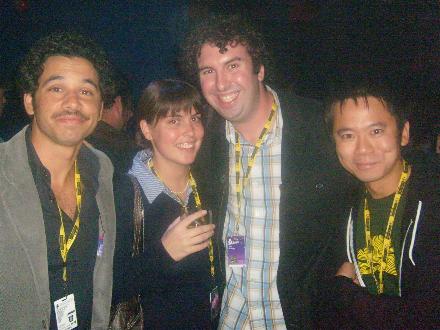 Left to right: Al Madrigal, Kara Baker (Avalon Mgmt.), Matt Braunger and New Facer Sheng Wang at the 80s At Midnight Party
But the shorts presented by the folks from Heavy.com were mystifying. They stressed that the movies they pump through their wildly successful site-- some animated, some live action-- were targeted to 18-39 year old men, but to us, it appeared that they were aiming at 11-15 year old boys. Each short was loaded up with all the hallmarks of inorganic "viral videos"-- irony, violence, celebrity, parody-- but curiously missing was any trace of genuine humor. There was plenty of irony, but what good is irony when there's no yuks? If this is the future of web videos, it is a bleak future indeed. Fortunately, the WWW is a vast, nearly limitless expanse where the zero-sum math no longer applies. So, soulless dreck like that offered via sites like Heavy.com can't "crowd out" truly clever and honestly funny creations if and when they're generated.
We strolled from the Monument National to the Theatre Ste. Catherine with J.P. Buck from HBO's U.S. Comedy Arts Festival. We arrived just in time to stake out some standing room in the balcony for the sold out Jim Jeffries set. Jeffries is funny, likeable, and confident-- eliciting hoots from topics that range from filthy to deadly to profane. A minor quibble: We were always under the impression that a one-man show or a flying solo show (or whatever they call them these days) was separate and distinct from a 50-minute club set because it was produced and stage-managed and fussed over and tarted up with lights and sounds and props or stage direction, etc. Or at the very least, it had a theme that every inch of material reinforced. To be honest, we were surprised that "The Second Coming" had no geegaws or knickknacks-- it was Jeffries, a stool, a chair and a stage.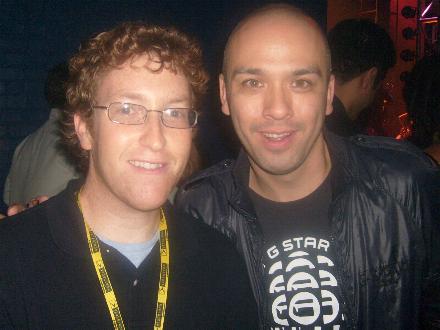 Matt Harawitz (l) and Jo Koy at the 80s At Midnight Party
Up the road a piece, was New Faces at Kola Note. In all the retrospective pieces that have been cranked out on the occasion of the 25th anniversary of JFL, they note that New Faces premiered in 1996 and that it was "a showcase for unsigned talent." We weren't here in 1996, so it may well have been true. But it certainly isn't true this year (and, to our recollection, hasn't been true since 1999). Of this year's crop of 16, only three seem to be without representation. Everyone else has the muscle and might of ICM or Gersh or Levity or Brillstein or 3Arts or what have you. We've heard the sentiment expressed on more than one occasion that it was pointless for a manager or agent to attend the New Faces shows, as everyone was already signed, sealed and delivered.
How difficult would it be to find 16 people who are truly unsigned? We daresay we could do so. (Hell, The Male Half and the Female Half are unsigned! There's two right there... one-eighth of the way to the goal already!) It is not an impossible feat to find 16 (or 32... or 48!) unsigned comedians in North America, the U.K. and Australia who could "bring it," (as Ant is so fond of saying!) in a New Faces showcase. And-- BONUS!-- audience members wouldn't be paying 25 smackers to see comedians who've been in the game for only two or three years. No sir-- it would be possible to stock a New Faces show with comics who average ten years behind the mike. We hasten to add that this diatribe is delivered with no help from The Green Monster-- no "charming mix of anger and jealousy" here! We're just observing.
There's a quote in the HR from Greg Giraldo on his New Faces experience that is fascinating.
Giraldo, by his own admission, was fairly green to the circuit when he hit big at JFL at "the tail end of the ridiculous trend of giving young standups deals based on six minutes. That's literally what happened. It took me from being an inexperienced, unknown comedian to an inexperienced, unknown comedian with a development deal."
We hate to sound like a broken record (or, for the folks in New Faces, we hate to sound like a scratched CD... uh, make that, we hate to sound like a corrupted mp3 file), but we hear the same stuff year after year. We're just sayin' is all.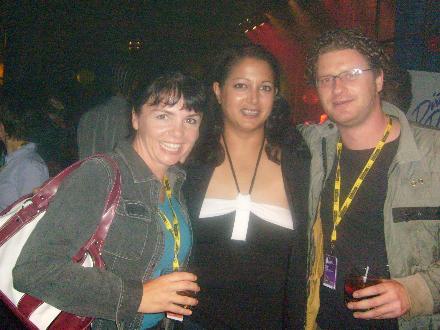 Left to right: The Female Half of the Staff and Talia Raine (Business Johnson) and Casper Frank (Business Johnson) at the 80s At Midnight Party (Editors note: In a previous posting, we mis-identifed Casner Frank as "Frank Casner!" We apologize for the error! And we attribute the mistake to the fact that, since we arrived in town, we know of at least three laminate goofups-- two of which were ours! When we saw "Casner Frank," we naturally assumed that this was yet another! Paul Ash has a laminate that reads "Ash Paul." He shall forever be known to us as "Ash Paul!")
We headed up the hill to the 80s At Midnight Party, arriving just after midnight (comics are noted for their timing!) and found throbbing music (from the 80s, of course!), a disco-era light show and plenty of gals in leg warmers slinging trays of hot smoked meat sandwiches and curried chicken on a stick! An hour or so later, the crowd had arrived and an 80s cover band was delighting all in attendance with a show that included costume changes! How utterly Vegas-- we don't mean that in a bad way. Rick James, Prince, Dead or Alive, DeeLite-- no act too big or too small for this ensemble. What is it about 80s music that makes people ecstatic? Techno tends to put folks in a sour mood or it makes them hypersexed. 80s tunes makes them giggle and shout and hop up and down. Which would you rather have?
Sitting and relaxing at a party like this one is a luxury that only early-arrivers can enjoy. When the midnight shows empty out and the second large wave of attendees starts deploying from the giant freight elevators, the joint is SRO. And on this evening, it was blessedly transvestite-free! Not a hint of faux-hip, Euro-culture shorthand-- no ripped, shirtless men wearing only tight satin pants and a bowtie; no fishnet stockinged "ladies" with prominent Adam's apples; no Cirque du Soleil lite acrobats or mime-esque drink servers. Just catchy pop tunes, giant balloons and plenty of free liquor and edibles.
Final note today: The Female Half is no longer obligated to take extra special care of herself in anticipation of her impending surgery-- we received word that her surgery has been rescheduled because her surgeon is scheduled for surgery herself! We hope that the surgeon's surgery is not on her hands or on her eyes!
Sunday, July 22, 2007
Just For Laughs '07-- SATURDAY
AUDUBON, NJ-- We're back in the office after a typically gruelling drive down I-87. We departed crazy early in order to avoid the jam-up at the border crossing. Didn't work. We still had a 90-minute wait. Shoulda gone through Vermont.
Also found out that Canada doesn't refund the GST any more. (Or the Harmonized Sales Tax, for that matter, but that doesn't apply here.) We looked forward to hitting the Duty Free store and getting back the tax on our lodging, then blowing it on a huge bottle of Bombay Sapphire... or maybe some Knob Creek or something similar. Then we saw the sign:
As of April 1, 2007, non-resident consumers who purchase goods in Canada and remove them from the country cannot receive a VRP rebate for the GST/HST they paid on goods if the tax became payable after March 31, 2007.
Total bummer, eh? According to the Parliamentary Secretary to the Minister of Finance, "the visitor rebate program was taken up by only 3% of visitors." Others dispute this. What isn't disputed is that the revocation of the rebate will probably hurt the $60 billion Canadian tourism biz.
That and the fact that the exchange rate is good for Canadians but not advantageous for us Americans. It's the lowest we can ever recall in our two decades of heading north. We seem to recall $1.32 on our first trip to Montreal to play the Nest in the late 80s. This past weekend, it was $1.05. Which means that when we forked over eight bucks CD for a Blue, we were pretty much paying eight bucks US for a Blue!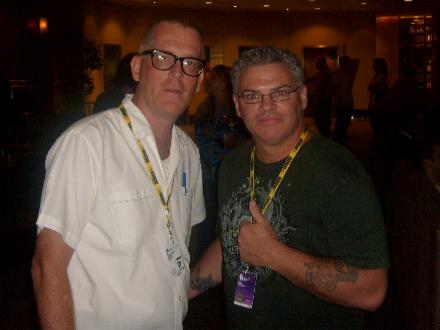 The Male Half with Mike DeStefano (Wise Guys) Photo credit: Todd Jackson
The sun made an appearance on Saturday. Thursday and Friday were wet and miserable, but Saturday was one of those days that enable Montrealers to push those suicidal thoughts out of their heads when they're suffering through March. Shocking blue sky, puffy clouds, slight breeze.
We posted our third report early Saturday afternoon, then headed down to the sparsely attended Artist vs. Industry hoop game. The Industry kicked ass, winning by nine points. It was the second win in a row for them. Too bad there wasn't a larger crowd on hand to witness the spectacle. Perhaps the RBK Ball Hockey Cup game is drawing sporting enthusiasts away from it. This is Canada, after all.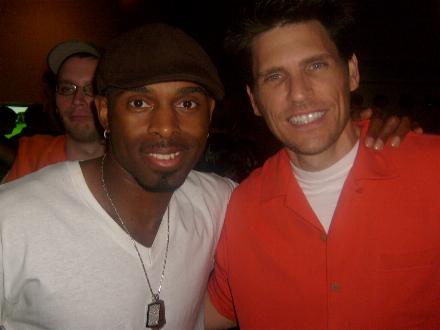 Last Comic Standing's Ty Barnett (l) and Don Friesen at the Hyatt
We swang through the Delta... er... the Hyatt later on, then decided to wade through the street portion of the Festival, on the Boulevard de Maisonneuve. The streets were packed with families and kids and twins and midgets and those big heads that are popular at Carnevale (this year's theme was Carnevale). And there were, parked along the boulevard, large floats depicting famous comedians-- Charlie Chaplin, Laurel & Hardy, Mr. Bean, Mike Myers and Jacques Tati. We were also half-heartedly searching for the secret Comedy Network party. Nobody seemed to know about it. We heard rumors that they only extended invites to Canadians. We heard it sucked, too. And, no, that is not a case of
sour grapes
.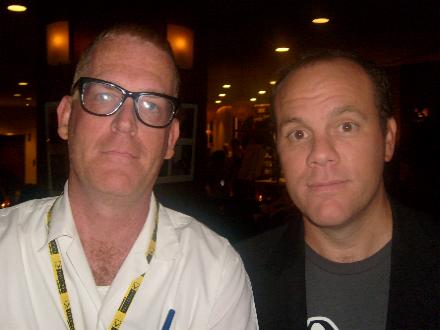 The Male Half with Tom Papa at the Hyatt. (Note The Male Half's glowing Shrek-like ogre ears!)
For the first time since our arrival on Wednesday, we felt that crushing fatigue that comes over nearly all Fest attendees at one time or another ("Festigue," perhaps?), so we slipped into a light coma at six, resolving to arise in two hours time and decide which show to take in that evening.
We obtained tickets to Family Guy Live. How would they fill 90 to 120 minutes?? What exactly goes on at one of these (Fill in the blank) Live presentations?
We strolled on over to the Place des Arts, the hulking, modern jumble of buildings and sculptures and plaza that occupies a city block or two directly across from the Hyatt. The show was to take place in the Salle de Wilfrid-Pelletier, the largest multi-purpose concert hall in Canada. It seats nearly 3,000 people.
And, as the showtime neared, we approached the building and noticed clumps of two and three and four people walking, darting, around the circular, glass-enclosed mezzanine level of the building-- searching. Searching for...
the entrance
! Here, at street level, we wandered just outside the building, clearly able to observe the folks who had somehow figured out how to gain entrance. We switched directions, we communicated our frustration to the other unfortunates who were equally stumped by the mystery portal that would-- some day-- enable us to...
get inside
.
Whichever lunkhead had designed and built this modern marvel in 1963 probably thought he was being clever. However, he neglected to make clear just how us common folk might actually enter the edifice. (The Male Half was "architecturally livid.") And no one milling about outside seemed to know how to get in, either! We solved the mystery eventually-- one must go underground to get in, through a rather dank, unappealing tunnel. Here you have a splendid hall, dedicated to the presentation of the great works, and the poor shmucks who wish to see those great works must march down a futuristic shaft in the ground, like the Morlocks in "Time Machine."
Montreals comic Asaf Gerchak (l) and Peter J. Radomski (Bubbling With Laughter) at the Hyatt
Eventually, we took our seats inside. It is quite impressive-- it is akin to being inside of a large spaceship (with much better acoustics). And, fittingly, the motif seemed Star Wars-y-- many of the fixtures seemed to be assembled from the spare parts of Stormtroopers.
By the time we scrambled into our seats in Section Q, series creator Seth MacFarlane was well into the introductions. As each cast member was brought out to thunderous applause, he/she took a director's chair behind a microphone. What followed was a table read of an episode called "Airport '07."
After the table read, some cast members took turns singing songs (to musical accompaniment) in the voices of the characters from the show. Including a duet between Peter Griffin and Lois (Alex Boorstein) called "You Don't Eat My Pussy," sung to the tune of "You Don't Bring Me Flowers." After that, they took questions from the audience.
It is worth noting that this was the 10 PM show. And it also worth noting that earlier in the evening, there was a 7 PM show. And it is worth further noting that the cast was, quite openly and with much fanfare, drinking onstage during the entire performance. Seth Green, who voices Chris, was pulling directly from a large bottle of red wine, from what we could tell. The crowd loved every minute of it. They exploded the first time MacFarlane did Stewie. The fans went ape over most of what MacFarlane did/said. Perhaps their second fave was Mike Henry, who voices Cleveland and the perverted Herbert.
Afterward, the Hyatt was packed, of course. Final night drinking is a tradition for many. On this particular Saturday evening, among the revelers were
Lewis Black, Louis CK, Susie Essman, Kathleen Madigan, Jessica Kirson, Greg Fitzsimmons, Bill Burr, Jimmy Carr
and many, many more. (And if the abovementioned weren't there Saturday, we can be forgiven for imagining that they were, as they had been there all week!)
Of the gala hosts, we spotted only Howie Mandel. Once. And that was during the day, for a photo shoot. The other hosts--
George Lopez, John Pinette
, William Shatner-- avoided the throngs. At least while we were in the house.
Buzz?
Jo Koy, Joey Kola
and Bill Burr. They all either were the recipient of heavy ink in the Gazette or wild word of mouth or both.
Any common themes or threads? We saw four teams. Fancy that. Are comedy teams making a comeback? It is hard to do, and, on a personal level, it's hard to keep a team together. God's Pottery, Stuckey & Murray and The Doo Wops use music. Team Submarine do not. We were entertained by all four. (The Male Half had a discussion with Team Submarine on the history of comedy teams while waiting for Thursday night's installment of the Green Room. He told them that he had read in the excellent book, "No Applause, Just Throw Money," that quite often comedy teams split apart because the straight man would essentially drink himself to death. Good luck to all of you, gentlemen!)
Other trends or threads? We were assaulted at nearly every turn by presentations that were, in part or in whole, telling us what to do/what not to do, what's funny/what's not funny, who's funny/who's not. What is that all about? Why all this urgency to beat us (comedians nearly all) over the head with this pedantry? And where, we ask, is the entertainment value? After the last four days, we're thoroughly convinced that comedians are never less funny than when they're making fun of other comedians. If you're going to deconstruct comedy, you had better make it funny... or go the serious route and make it damned interesting. Much of it falls awkwardly between funny and interesting, landing somewhere between petty and pathetic. For the most part, this kind of stuff falls flat.
And, some of those same folks who were crying hack at every turn were quite possibly guilty of it themselves on more than a handful of occasions, at least according to what we saw, and according to what we heard secondhand.
Case in point: How is travelling to another country (in this case, Canada) and making lame "Bush is stupid" jokes any different than going to Cleveland or Phoenix and inserting the name of the local gay bar into an opening joke for a cheap laugh? It's not, really. It's Hack 2.0 And, it seems, a startling number of comics did it. To paraphrase Seinfeld-- We're not offended as Americans, we're offended as comedians. And in every case, the "joke," such as it was, contained nothing more than the words "Bush" followed by "dumb" (or its equivalent) modified by "fuck" (or its equivalent). To put it another way, there was no artfullness, not even an attempt to be subtle or clever. Even Seth MacFarlane, the creator of one of the more clever and cutting television shows in existence, could only come up with "the president is a flop-eared fuckface." (And in his own voice.) Not exactly the height of sharp wit. It doesn't even rise to the level of Will Rogers (and believe us, Rogers was pretty lame-- go back and read some of his stuff.) Here's the really weird part: With the exception of MacFarlane's hamhanded slam, precious few of the attempts at getting a cheap laugh by bashing Bush got so much as a weak, oftimes uncomfortable, laugh. Perhaps even folks who might be predisposed to laugh at a W gag might be sensing that it's played out.
Finally: We were thrilled to meet several of our "fans!" By "fans," we mean regular readers of SHECKYmagazine who seemed to be thrilled to meet us. Indeed, some even seemed, for lack of a better word, "starstruck." As we always say, there is no need to be intimidated. It's just us! We do not bite. We are eminently approachable. If you see us at a function, come up and say, Hey!
Tune into
the blog of Sean McCarthy
(formerly of the Boston Herald, now of the New York Daily News) and tune into
Dead Frog
by Todd Jackson for other perspectives.